Cut and Colour @ Sense Studio...
How is everyone's Friday going so far? I'm just counting down the minutes to the end of work as a bunch of the girls are coming down to Singapore to watch Chippendales tomorrow night! :D
It just struck me that I've been in Singapore a week today – gosh time flies, doesn't it? So far so good, I've probably gotten a teeny bit darker since arriving here since I'm in the sun a lot more
(even though I've been slapping on the sunscreen!)
and hey, I think I'm losing a bit of weight too with all the walking
(super missing my car though...*pouts*)
Anyway, I actually got a cut and colour from my usual stylist Joanne at Sense Studio the weekend before I left for Singapore – she's finally back from maternity leave and it's been a while since I'd been back, so I figured I had better get it done rather than leave for Singapore with an unruly mop on my head
(!!)
There was so much foil in my head during the process that I reckon I could have given my satellite dish a run for its money – Astro eat your heart out! I spent a good 35 minutes looking like this, so you can imagine my boredom at snapping pics...
The entire process took just under three hours, and I had a pretty good deal of c
ut + colour + highlights + treatment + 2 full-sized L'oreal haircare products for RM568
(mind you I have pretty long hair)
so it wasn't too bad. Plus, it'll last me quite a while so for things like this I don't mind spending a bit more if the results are good and easy to maintain.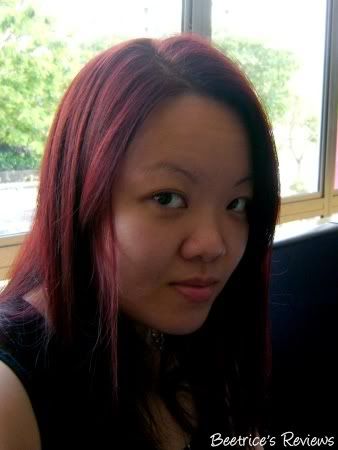 This is what it looked like after a couple of days – the red highlights have gotten even brighter since this pic was taken, plus the purplish-red undertone base colour also lightened a bit so my hair's really quite red under sunlight which is quite different from the previous shades I've tried. No issues though, the colleague sitting next to me in my new office has purple streaks in her hair so I fit in quite nicely here in Singapore...heehee...
Have a good weekend ladies! :D
(and yes, I'm back in the game!)
Labels: hairdos, sense studio