Clinique Juiced Up Colour – Spring 2010...
It's almost the end of the spring season, but you wouldn't know it looking at the weather outside – it seems like the spring showers are only hitting Singapore and Malaysia now, swinging between torrential showers and blistering heat.
Yesterday after going out for a meeting, I got caught in a torrential downpour that err, was extremely windy and 'spattery'. That aside though, I still arrived at the office feeling pretty good since my light hand with makeup hadn't faded!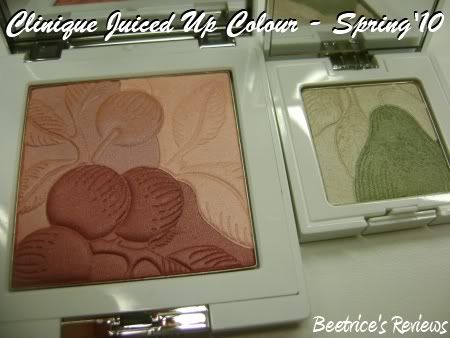 The products I used were actually from
Clinique's Spring 2010 Juiced Up Colour
collection – the All Over Colour in Mixed Berries and Fresh Picked Eyeshadow in Fresh Picked Pear.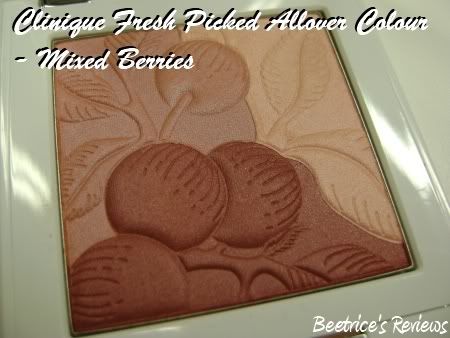 Allover Colour in Mixed Berries
was one of the items that I could barely bear to 'defile' simply because it looks so awesome. I found out though, a good way to force myself to use it was to make it one of the only two blushes in my bag when I came to Singapore – voila! No choice but to start using it... :D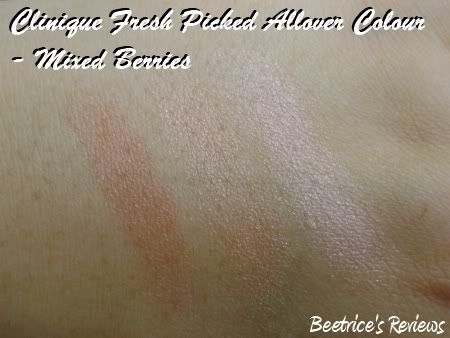 All the three individual colours are pretty on their own – I've also found that the lightest shade can be used as a pretty brow highlighter too! Once swirled together they create a nice soft glow (pic below)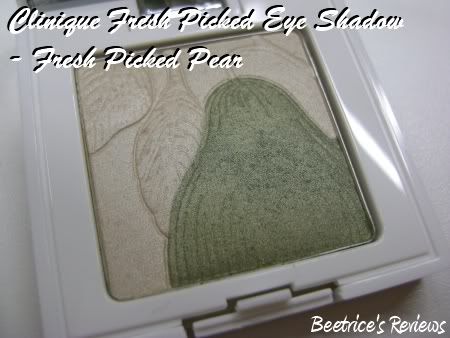 I used it together with the Fresh Picked Eyeshadow in Fresh Picked Pear, which is a pale gold and green with a satiny sheen in a super-cute pear pattern. The eyeshadow itself is quite easy to pick up with either fingers or brush, although personally I prefer using my fingers.
However, I found that the colour of the eyeshadow is quite sheer when I use my fingers – using an eyeshadow brush works better if you like more intense colour, but I happen to like just a 'wash' of colour instead of eye-catching shades...particularly at work!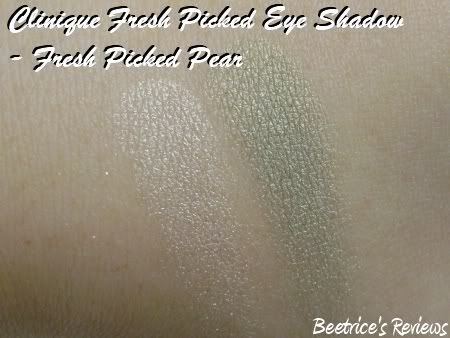 As you can see from the swatches above, they're slightly on the sheer side but still quite pretty. Love this for the days I just want a hint of colour without having to fuss too much! :D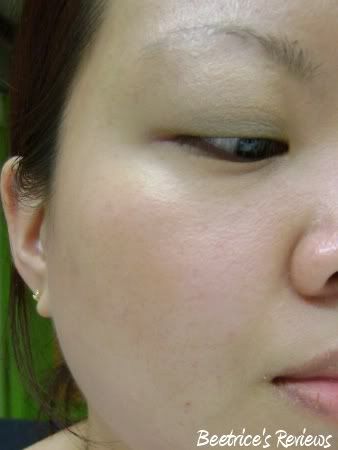 This is what I ended up with both Allover Colour and Fresh Picked Eyeshadow applied – apologies if it's not really clear in the picture, but the lighting in my office doesn't make for very good photos. :s Mind you, this was after surviving through a downpour, so I reckon it's not too bad. Your thoughts?
Clinique Fresh Picked Allover Colour (RM115)

and

Fresh Picked Eye Shadow (RM75)

are both limited edition items and part of the Clinique Juiced Up Colour – Spring 2010 collection, now available at all Clinique counters.