These Are a Few Of My Favou-"RED" Things…
Raindrops on roses and whiskers on kittens,
Bright copper kettles and warm woolen mittens,
Brown paper packages tied up with strings,
These are a few of my favourite things…
* The Sound Of Music
It's the start of the week once more – how was the weekend for all of you? Mine was rather mixed as I'm nursing a bit of an upset tummy
(no doubt brought on by all the dinners and lunches),
but I did manage to clear out most of my closet too and now I've got two garbage-bag-sized bags of things to donate to charity, plus one whole bag that's just going in the bin. Yay for cleaning and Operation Declutter!
Wondering about the title and lyrics above? Well, since Mondays are typically blue, I thought I'd brighten it up a bit and share with you some of my favou-'red' things – nothing like a splash of red to ring in Chinese New Year and Valentine's Day eh?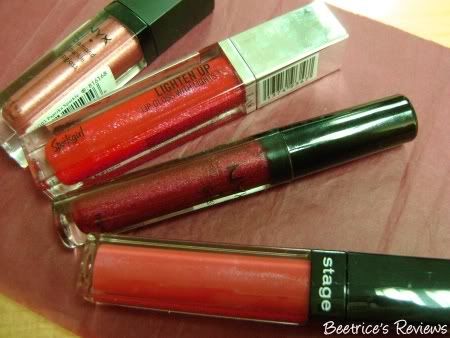 (L-R:

NYX Diamond Sparkle Lipglos

s in Paprika Sparkle,

Sportsgirl Lipgloss

in 'Talk of the Town',

NYX Girls Gloss

in Frosted Plum and

Stage Wondergloss

in Persephone)
I think by now it's pretty obvious I'm a serious lipgloss fan, and there's nothing like a nice red gloss to kick off Chinese New Year. Where previously I'd have shied away from traffic-stopping red, this year…ah to heck with it, I'm going to stick my ruby-red lips out and enjoy it! I'm not beyond having red lipstick too, but you can hop over to
Paris' website
for her signature red lips look! :D
(L-R:

Stage Nail Colour

in Glamorous,

Revlon Nail Enamel

in Red Hot Tamale and T

he Face Shop Nail Pleasure

in #31)
Seems like this year I've suddenly gone onto a red spree. Nothing spells glamour like red nails
(although a word of caution that short nails work best – long red nails just looks tacky!).
I haven't quite decided which shade I'll go for just yet though…but that Red Hot Tamale is pretty eye-catching, no?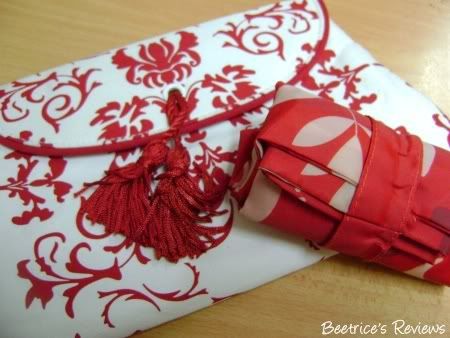 (Oriental pouch from

Clarins

and

Envirosax

in Mikado)
Doing the environment a favour just makes these two a couple of my favou-'red'-est things
(no such word, but you get what I mean!).
I got the pouch during their launch of their Nude Inspiration collection – it even comes with a mirror built into the top flap, and as for the Envirosax – well, I just happened to fall in love with the pattern when I saw it. No missing me in a crowd, that one!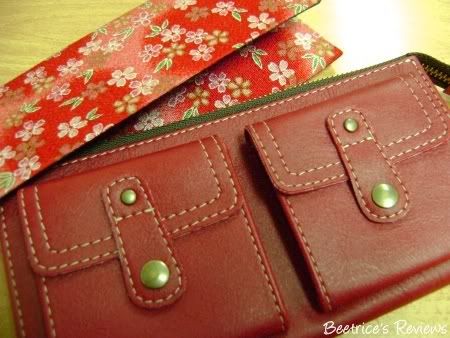 (Japanese blossoms flat wallet from Japan, red leather wallet from Bangkok)
More pouches and wallets – the flat wallet from Japan was the cutest thing I'd ever seen, and I still use it to hold my receipts and cards when I travel. The red leather wallet I happened to pick up during my December trip to Bangkok and seeing as how I'll be doing a fair amount of commuting between Malaysia and Singapore over the next 6 months, this'll come in handy!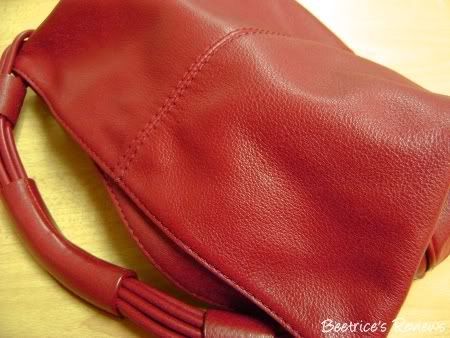 (

Oroton

Alpine Small Gather Hobo bag)
Usually I'm not one to carry a bag in such a strong shade, but after being influenced by
Tine
and Geek
(plus at the time Oroton was having a 50% sale)
I ended up with a beet red Oroton, and have never looked back since. The quality and design are amazing, and it fills out so nicely that I can store heaps in it without looking like a bag lady.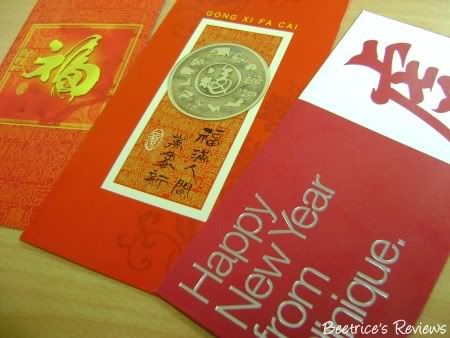 What would CNY be without the traditional red packets?? :D For those that qualify, angpows help to defray the ermm…seasonal shopping during this period!
(I still qualify, so bring it on!)
Speaking of which, did you notice that angpow packets are always packed in stacks of eight?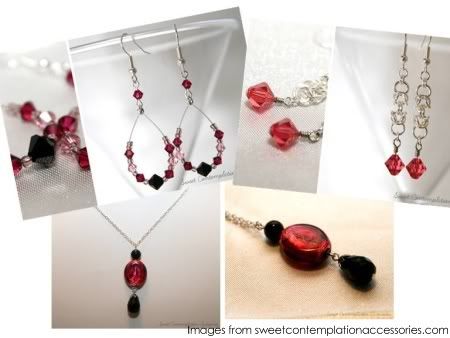 (Clockwise from top left: Rosalind, Isabella and Cherry Lady – all from

Sweet Contemplation Accessories

)
If you're not quite the type to go for red gloss, nail polish or bags and wallets, jewellery would probably be a more subtle option. I love drop earrings, and have a gorgeous pair of red vintage drop earrings that are going to make an appearance this CNY
(haven't worn them in a couple of years since I had an unfortunate run in with a brat that literally tried to rip my earring out…and nearly succeeded! Took a while for that one to heal up and re-pierce…*eeps*)
but if you want something similar, head on over to
Sweet Contemplation Accessories
from 5 to 28 February 2010 to enjoy a 10% discount and free worldwide shipping with the voucher code
VDAYCNY2010
.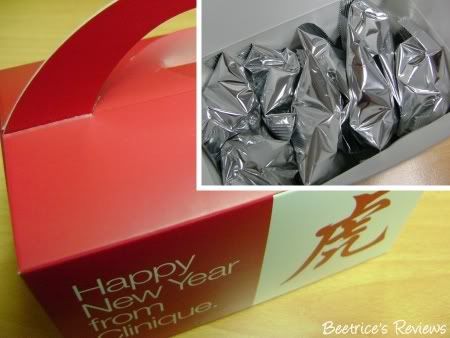 LOL…well, this isn't really related, but I happened to get a SMS from
Clinique
asking me to collect this from their counter – fortune cookies! :D Since they came in a nice red box, I thought I'd throw it in for good measure.
Looking back, the lyrics from
'My Favourite Things'
above could probably be rewritten to the following:
Lipstick and lipgloss with some crimson polish,
Envirosax and pouches so trees won't all vanish,
Gorgeous red wallet, bag, angpows and bling(s),
These are a few of my favou-'red' things…
What's your favou-'red' thing? :D
Labels: bags, clarins, clinique, envirosax, makeup, nyx, oroton, revlon, scaccessories, sportsgirl, stage cosmetics, the face shop