RMK Glosses = Love…
Hey hey, it's Wednesday!
(gee that rhymes…LOL!)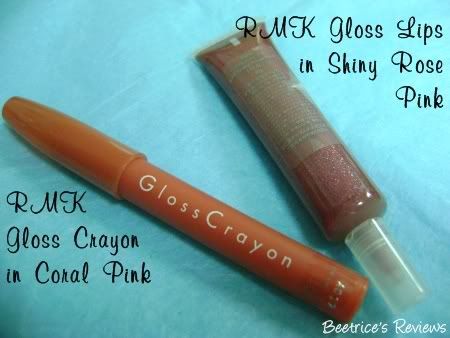 I got these two glosses from RMK from a friend last year during my birthday, and while RMK hasn't particularly been a brand that I've paid much attention to I'm loving these two – the
RMK Gloss Crayon
and
RMK Gloss Lips
(the Gloss Lips is in a tester tube version so it looks different from the actual product)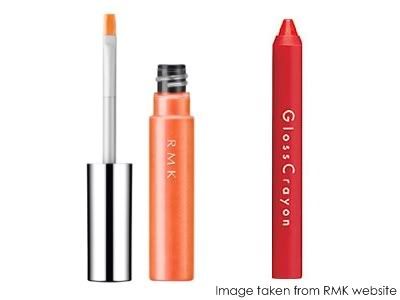 RMK Gloss Lips:
Get sensual color with this lip gloss that goes on easily and leaves your lips looking beautiful. With a wide range of colors to choose from, it's easy to find the right RMK Lip Gloss for you. Comes in 20 colours.
RMK Gloss Crayon:
A brand new paradigm in lip coloring, with a playful crayon design that hides a sophisticated level of functionality. With one bold stroke, color just seems to leap off the crayon and melt into your lips, but RMK Gloss Crayon is equally adept at drawing natural-looking lines. Comes with a specially-designed sharpener. Comes in 6 colours
My RMK Gloss Crayon is in Coral Pink, which is a nice nude-y shade with great colour payoff
(albeit a little more coral than I'm usually used to),
while the Gloss Lips is in Shiny Rose Pink and this is where it gets a little amusing – in the tube, the gloss looks rose-y…when squeezed out it looks darker than in the tube…but when applied it becomes a shimmery gloss with just a hint of colour. Then again, RMK's lip glosses have been known to be pretty sheer so I guess this shouldn't come as a surprise. That aside though, they actually look pretty good layered on together! :D

On the left are my bare lips (eeps!), in the middle is just one coat of Gloss Crayon, and on the right topped off with the Gloss Lips. I dunno about you, but I like the result! :D They last pretty long too, so there's not much to not like about this combination.
RMK Gloss Crayon and RMK Gloss Lips retail at RM75 and RM78 respectively and are available at all RMK counters.