Memories of CNY 2010…
It just struck me that this Sunday is already Chap Goh Mei
(the final day of Chinese New Year)
– gosh, where did almost two weeks go? Anyway, I thought I'd just share a few of the memorable bits of this CNY…didn't take that many photos, but I did ermm…pick up a few nice things along the way too! :D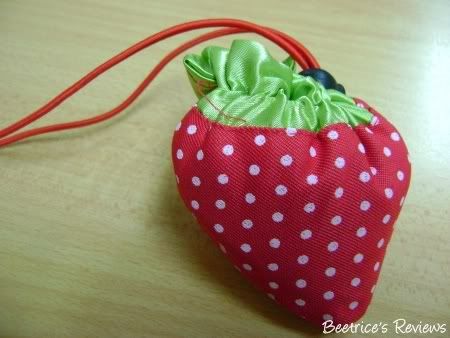 This was a gift from my cousin – a shopping bag that collapses into a strawberry-shaped pouch!
(Xin is so going to want to attack me for it when she sees this knowing her penchant for strawberries!)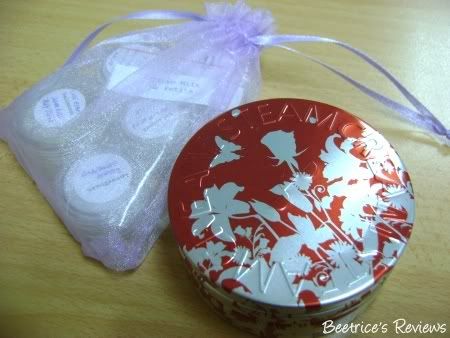 One of the (many) testaments of
Paris'
'bad' influence – after reading her review on
Steam Cream
and trawling through the
Soap n' Sorbet
website, I ended up picking up one for myself in a gorgeous red and silver pattern as well as a sample set…the tin's very Valentine-y, you reckon?
In case any of you are interested,
Rootote Australia
is having an additional 40% off their sale items as they're clearing stock at the moment. Stocks are limited and shipping's expensive, but a few of us lumped our orders together
(additional discount offsets the shipping)
– and one of the items I picked up was an adorable Rootote pouch. Not sure when this sale is ending as they don't mention it, but if you want to pick one up better hurry cos stocks are running out super fast!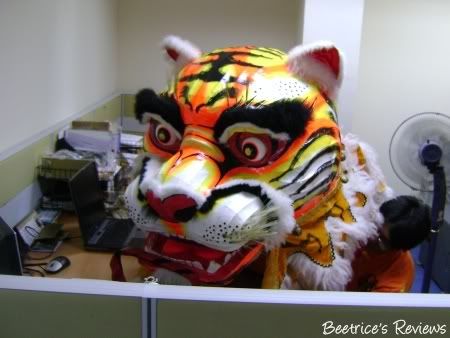 This is a first for me –
Tiger Dance
! Haha…yes, I know that sounds quite wrong since it sounds quite close to "Tiger Show"
(which is indubitably more risqué!)
but apparently it's some 'special' thing they do only during the Year of the Tiger or something like that. They came to the office to do the requisite clanging and banging to bring good luck – only question is, since the tiger looks like he's sitting at the computer, can he complete my Word Doc for me while he's at it? ;)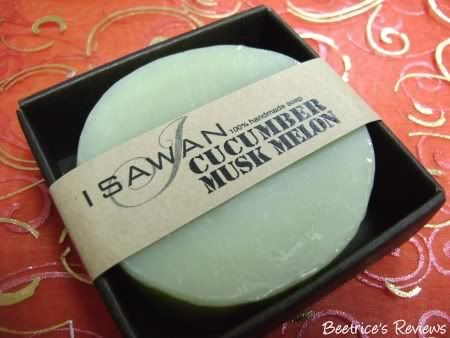 A few of the usual culprits in our group went for 'lou sang' on Sunday night – it's a pity a number of us couldn't make it, but we had fun nonetheless. It never fails to amaze me how thoughtful and determined some of the others are –
Plue
had come directly from the airport nursing an upset stomach, just to see us for a bit and pass us some souvenirs from Bangkok!
(It smells amazing by the way, can't wait to try it out).
Thanks dearie, hope you feel better already!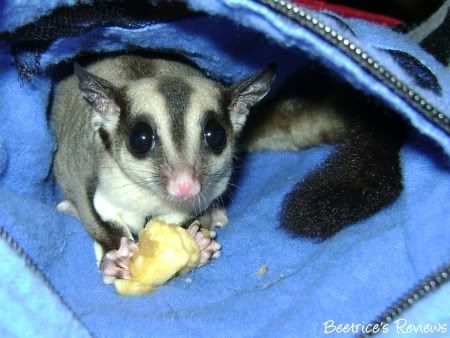 The other one that couldn't make it for dinner was
Connie
, but she came all the way from her dinner to join us for coffee afterwards with a curious pouch dangling from her neck – it turned out to be her sugar glider
Lexi
! Super cute, and since she's nocturnal…very active!! Can't remember how many times she went scampering all over the place with us scrambling to scoop her up. Absolutely adorable though… :D
What are the more memorable moments from your CNY this year? Share share!
Labels: bodycare, steam cream