Maybelline Volum'Express Magnum Mascara…
Ooo…it's finally Friday!! :D How are all your plans for the weekend eh? For me, ermm…it's probably going to be a whole weekend of eating since I've got lunch AND dinner appointments every day starting from tonight!
(someone's going to have to crowbar me into my cheongsam come CNY… :S)
Anyway, that aside I thought I'd
(finally!)
share my thoughts on the latest Maybelline mascara, the
Volum'Express Magnum Waterproof Mascara
. I'd been meaning to write about it for some time, but never managed to get decent photos of the mascara since I usually use it at night
(and my night shot-taking skills are horrible)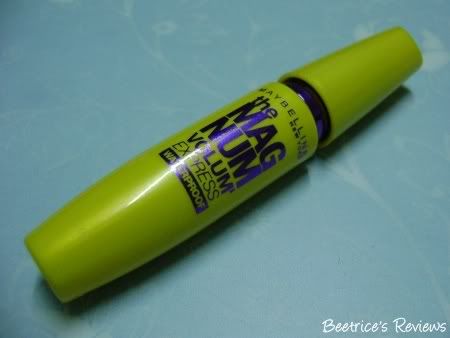 Description:
Dramatic, magnified last effect of 10 times the volume, the Volum'Express Magnum Waterproof Mascara is Maybelline New York's ultimate secret weapon. With the ingenious secret ingredient of the Collagen Formula as well as the new patented oversized Magnum Brush, this waterproof mascara breaks the volume barrier for killer lashes. The Collagen Formula plumps up and volumises the lashes by 10 times giving that luscious thick look. The Magnum Brush seeks out even the smallest last to ensure fine wax dispersion, with a generous and fast charge, ensuring ultra thick lashes with absolutely no clumping.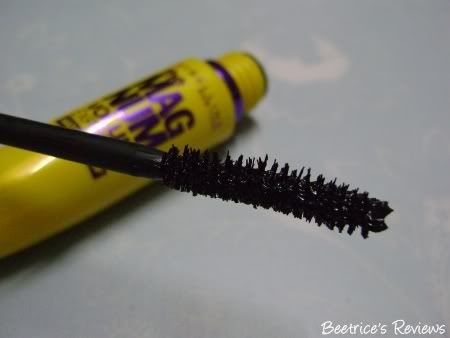 The Verdict:
I must say the brush is pretty unique with shorter bristles on the inner curve of the wand but longer bristles on the outer curve, which is supposed to make for easier application and building up volume. When I first used this, I could not get it to apply smoothly and it clumped something AWFUL. However, since then I've found that as with most mascaras, there's a knack to applying it.
It surprised me to discover that the Magnum mascara actually applies better when it's just the tiniest bit dried
(thanks to a tip from a couple of fellow bloggers)
so what I actually do now is take out the wand and wave it around a couple of times before applying it to my lashes, which I think makes a big difference to the results.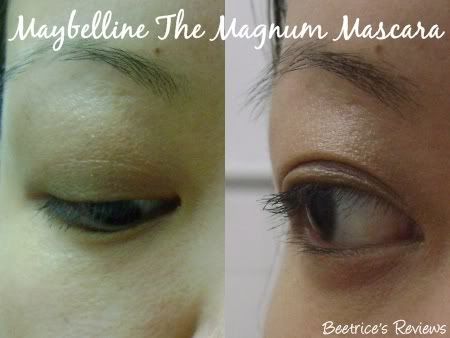 As for Maybelline's claim of volumisation by 10 times, I can't actually vouch for that since it didn't particularly make my lashes go
'boom'
(the picture above is just two coats),
but it did do a pretty good job providing some
'oomph'
to my lashes
(and even lengthened them a tiny bit).
However, on its waterproof claim this mascara is awesome! I accidentally took a swipe at my eyes a minute or so after application and the stuff didn't budge until I was ready to take it off. As Paris mentioned, cleansing oil does not work well to take this mascara off – you're better off using a simple eye makeup remover which I can vouch for. Using the makeup remover from Stage got it off without any fuss. :)
Overall I'd say this is a pretty good mascara particularly on its waterproof-ness, and once you get the hang of applying it you should have a breeze with it.
Maybelline New York Volum'Express Magnum Waterproof mascara

retails at RM35.90 and is available at major supermarkets and personal care stores.
Rating: 3.5 / 5
Value: $$
Labels: makeup, mascara, maybelline