Kiehl's Lip Balm #1 in Pear…
While walking around Bangsar Shopping Centre a few weeks back, I happened to go into the Kiehl's outlet and found out that their Limited Edition flavoured lip balms from Christmas were going at just RM35 each. From experience, I found that Kiehl's does a lovely rendition of Pear, which led to a purchase of this little baby here.
Description:
Kiehl's Lip Balm #1
is a SPF 4 sunscreen petrolatum skin protectant that temporarily protects and helps relieve chapped or cracked lips as well as helps protect lips from the drying effects of wind and cold weather. Apply liberally to lips and allow an excess of the balm to be absorbed.
The Verdict:
After taking a whiff of the pear lip balm, I'm hooked – it smells exactly like the
Pear Tree Corner Bath and Shower Liquid Body Cleanser
I got a few months back, and oh, a heavenly smell that is. The balm itself is great for soothing chapped lips, and actually comes out smelling and looking like pear jelly, not unlike the baby food you buy at the supermarket in jars.
Texture-wise it goes on baby smooth, and if my lips are dry or chapped
(which usually happens when I haven't drunk enough water)
it brings almost immediate relief. The only downside to this is the scent…it smells so yummy I can't help but lick it off ever so often! :D Otherwise, if I leave it alone it holds up pretty well and application twice a day gives me nice smooth lips.
Incidentally, I've also tried mixing a bit of it with salt and using it as a lip scrub – and I'd really recommend it for anyone who's got flaky lips! The combination works wonders, not to mention leaves my lips nicely prepped for just a smidgen of gloss for that 'you know you want to try it' look… ;)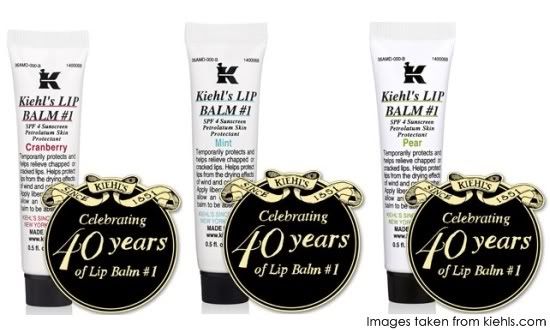 Kiehl's Limited Edition Christmas Lip Balms include Cranberry and Mint in the mix – Cranberry was sold out at the BSC outlet, but may still be available at other outlets, while Mint is still readily available.
While browsing the Kiehl's international website, I came across three new flavours that have just been released – Mango, Vanilla and Coconut. I'm wondering what the Mango will be like…and I know certain people will be bonkers for the Vanilla one given their penchant for that flavour. Guess we'll just have to wait and see! :D
Kiehl's Lip Balm #1
retails at RM39, while the Limited Edition flavours are available at RM35 each while stocks last.
Rating: 4 / 5
Value: $$$