Are you getting your dad anything for CNY/ Valentine's this year?
Valentine's Day/ Chinese New Year is just a few days away! :D Now, I'm sure most of you would have already gotten a gift for your significant other, but what the OTHER man in your life? I'm talking about dear old dad...you could always be nice and get dad a Valentine's Day gift too, right? :D (or Chinese New Year gift in lieu of an angpow maybe?)
Well, if you've been contemplating it and are still racking your brains, maybe these sets from
Lancome
could give you a nudge in the right direction.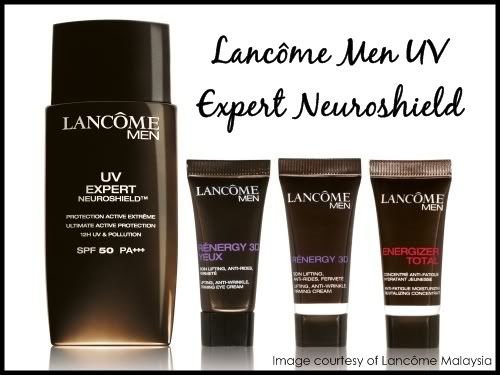 Lancome Men UV Expert Neuroshield – RM160
(valued at RM274) and comes with Renergy 3D Yeux (5ml), Renergy 3D Firming Cream (5ml), Energiser Total Anti-Fatigue Concentrate (5ml)
If your dad is like mine and is practically married to his golf set
(or other outdoor sports),
this would make a good choice since it has a high anti-UV SPF50/PA+++ protection for effective UVA and UVB filtration. My dad's still looking pretty good for his age despite his religious weekly golf sessions under the hot sun, which I attribute to his disciplined use of a really strong sunscreen!
(and *ahem* a growing vanity of wanting to try new products! He actually comes and tries to raid my product stash! LOL!)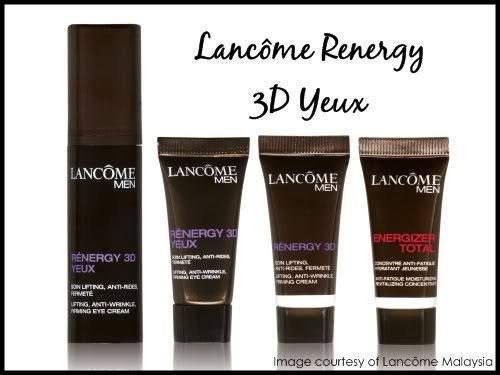 Lancome Renergy 3D Yeux – RM190
(valued at RM304) and comes with Renergy 3D Yeux (5ml), Renergy 3D Firming Cream (5ml) and Energizer Total Anti-Fatigue Concentrate (5ml)
For those in their 30s and 40s
(I'm thinking this would be ideal for those men worried that they're starting to look a little too 'distinguished' for their liking, or just feeling a little run-down)
the Renergy 3D is designed to firm skin and help erase wrinkles…and is likened to having 25,000 micro-lifts on the skin surface.
At under RM200 each, they're pretty good gifts without having to burn the bank. Personally I've given my parents a red packet each since I started working, but over the past few years it's grown to include some products and other items as well so I might just pick up one for dad.
(I'll probably regret starting this when they start asking for cars and houses, but so far so good! >.<)
So, are you getting your dad anything for the festive season this year? :)
Labels: collections, lancome, men, promos, skincare, sunblock