Princely Wedding Fair 2010…
Side Note: Thanks to my sucky internet connection over the past few days, this got delayed…but ah well, it's still kind of relevant, so why not? Warning though – photo heavy post!
Prince Hotel had their
Princely Wedding Fair 2010
last weekend, but a bunch of us had been invited earlier to the media preview
(less people, more time to browse and check out the offerings)
There's actually this HUGE vintage limo that you can rent for your wedding – not my style since I'm into something more modern and streamlined, but even then I couldn't help but be impressed at it. The couple in front are models wearing Carven Ong couture for the purpose of the photo session
(love the girl's dress, by the way)
The couple was in character the whole way, even down to the 'groom' carrying his 'bride' and champagne pouring
(I'll go into the champagne a bit later…it was halal!)
Some of the sponsors and participants had displays set up around the sides of the ballroom showcasing their various offerings…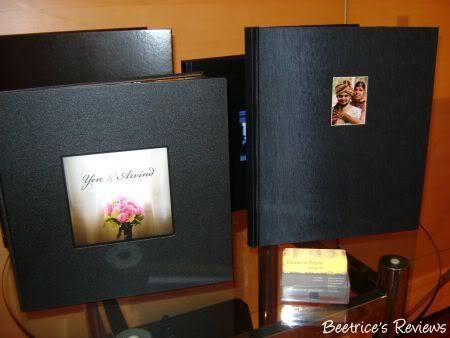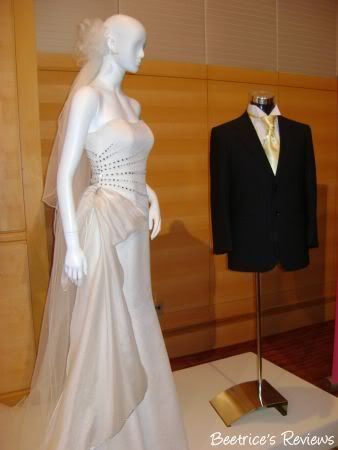 Fancy getting married in Carven Ong? :D Well, since I'm not likely to be able to afford Vera Wang, Carven's probably the next best alternative!
Wedding cake by
Big Boys Oven
– thanks Sidney for the invite!!
As part of the entire experience, we were treated to a fusion mix of their wedding banquet choices. Turns out that the banquet menus are customizable to your preference, such as substituting Japanese starters in a Chinese menu
(you get the idea).
So, needless to say we had a little of everything – Japanese, Chinese, Malay and Indian!
Japanese starter – I love my raw fish!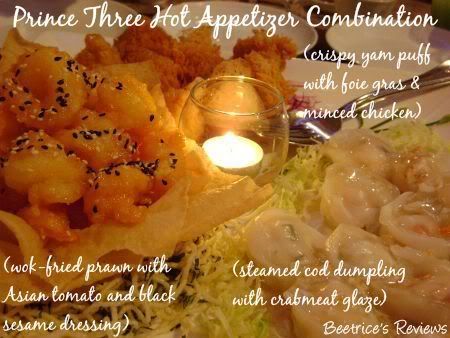 3 Hot Appetiser Selection – a nice alternative to the usual Four Seasons at most hotels. The prawns and yam puffs were absolutely yummy.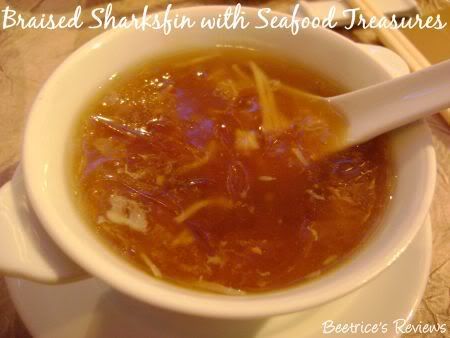 Typically Chinese wedding banquet dish of sharksfin – don't judge me!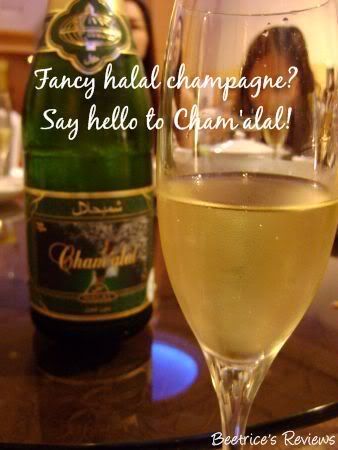 This is what we had to wash it all down with –
Cham'alal!
Believe it or not, it's HALAL champagne
(a glam step up from fizzy grape juice right?)
Tasted decent enough, but without the kick of real champagne. The organizers decided to have a bit of fun with us at the preview and got a representative from each table to open a bottle, with rather hilarious results!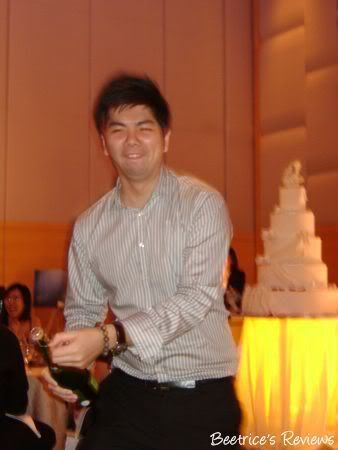 Taufulou
getting it on with the bottle…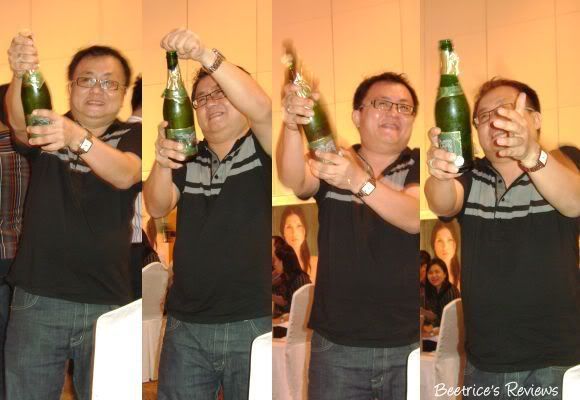 Sidney
was our representative, and…aiyoyo so funny to see him with the bottle!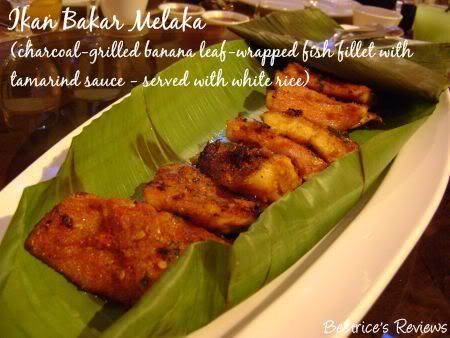 After the welcome break in courses, the eating resumed with grilled fish Melaka-style which came served with white rice – nicely complemented by the rice, but a tad salty on its own.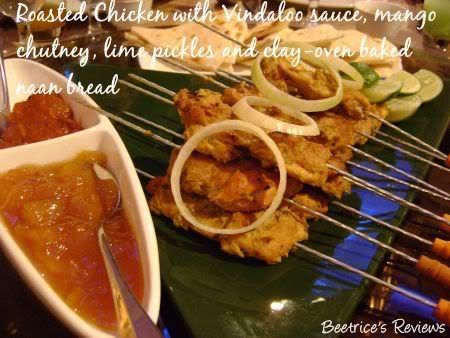 Up next…Roasted Chicken Vindaloo with chutney, pickles and naan bread – this was my favourite of the lot since the lime pickle was seriously tangy!
Of course, no meal would be complete without dessert which came in the form of Flourless Chocolate Cake…there are no words to describe this – plate licked clean!
So, fancy getting hitched in style? :) Well, if you do and want to get more bang for your buck, there's also the
Princely Wedding Contest 2010
– three lucky bridal couples stand to win a vacation to either Hawaii, Tokyo or Chiang Mai, while the others stand to win up to RM30,000 worth of cash vouchers sponsored by Prince's wedding partners. The contest is open to all couples that have confirmed their wedding reception at Prince Hotel in 2010. The contest draw will take place on
31st December 2010
for the three winning couples.
Me? Wait la…gotta find the groom first before thinking about hotel right? If only it were as easy as getting a
"model"
to play the part…LOL! :D