Operation Declutter Under Way…
So far so good…just over a week into 2010, and I'm holding fast to my resolution to de-clutterise my life. To be honest, I hadn't done much cleaning at all since the house repainting and renovations were completed in November, and everything is still pretty much in boxes all over the place
*sheepish look*
but hey, on the other hand now's a good time to start, right? Remember, the goal was to turn my room into a little oasis… :)
To date, I've chucked out three big garbage bags worth of rubbish
(and that's AFTER separating out the stuff that could be given away/ recycled, which was another big box's worth)
but instead of boring you with those mundane details, I'll skip ahead to last weekend's project of…the dressing table!
Now, I mentioned in
a previous post
that the first thing to be done up was the dressing table right? :D The reason for this is because it's the table I use for my makeup every morning, and erm…looking at the table in the morning wasn't really inspiring. The photo below says it all
(

WARNING:

Shocking photo ahead!)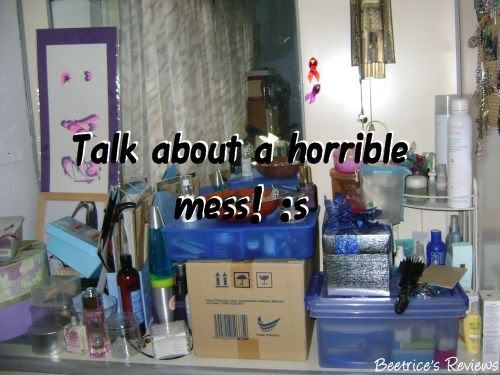 Embarrassing, right?
*sigh*
…during the renovations everything got unceremoniously dumped in a big box and afterwards, things were rather busy so it never really got "unpacked". The only clear bits you can make out are probably the items that I use on a daily basis!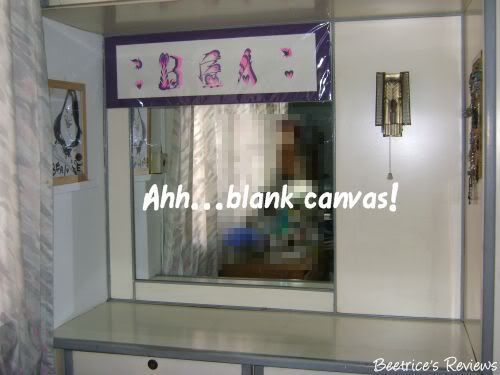 Nothing like a blank canvas to work with – and I even got to add to the décor! LOL…the caricature on the left was from the
Lipstick Gossip
event, the overhead nameplate I got from Palm Beach in Los Angeles back in 2005 and my
DIY earring holder
is on the right wall.
From there, it was a matter of sorting all my stuff into the many storage cases I have
(Ikea is such a godsend for these I tell you!)
before stacking it up on the table. And the end result was pretty pleasing
(to me, anyway!)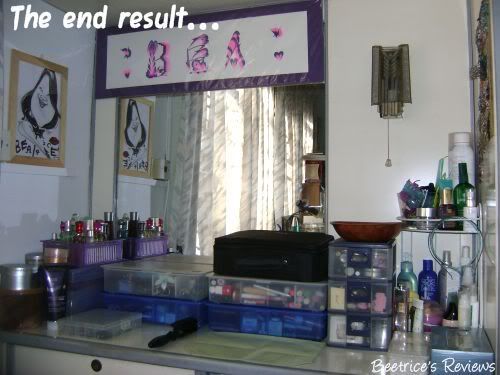 Left side: Perfumes and hair accessories
White cases: Jewelry (L) and lip products (R)
Blue cases: Foundation, base, loose powder, blushes (L) and eye colour cosmetics (R)
3-Stack: Sponges, applicators, empty sifter jars, etc
Corner rack: Daily use products
Black case: brushes - picked this up from Stage Cosmetics
I also got a green table mat from Daiso to put on the table just so I won't get my makeup all over the place or my brushes dirty, plus it's easy to clean and wash. And there you have it! :D Took me the better part of a day to sift through everything and chuck out old cosmetics, but the payoff was well worth it.
Dunno about the rest of you, but looking at it…now I'm back in the mood to apply makeup…LOL! And on a side note, I never realized just how many eye and lip products I had – they fill up a case each, and even then there's spillover which went into the black case…eeps!!
But there you go, one section down…next on the list is the bathroom! :D
Labels: tips n news, try it