Kérastase Biotic Concentré Bio-Recharge…
Over the past few weeks, I've realised that I'd been experiencing a fair amount of hair loss as well as a mildly itchy scalp despite no changes to my haircare range. It was then that I remembered that I'd gotten a box of the
Kérastase Biotic Concentré Bio-Recharge
to try a few months back but had never gotten around to it as I felt my hair was doing fine at the time.
This is no time to play around when the crowning glory's at stake – I promptly dug it out and dug straight in! I will be henceforth referring to it as Bio-Recharge Concentrate as it really is a mouthful!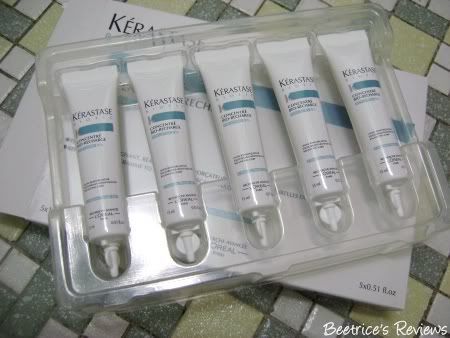 Description:
Kérastase Biotic Concentré Bio-Recharge
is a concentrated reactivating and rebalancing programme for the scalp and its natural defences. The concentrate hydrates and rebalances the scalp's hydrolipidic film, purifies oily roots, nourishes the hair, instantly soothes itching and discomfort and provides an immediate refreshing sensation. Contains 5% Bioflorine to rebalance and reactivate the scalp's micro flora, and glycerol to sooth the scalp. Rinse-out formula.
The Verdict:
When I first opened the Bio-Recharge Concentrate box, I thought it was just another 3-minute treatment conditioner and should be used as such. However, after doing a little bit of digging around, I found out that you're actually meant to apply it to freshly washed, towel-dried hair
(not to sopping wet hair as you'd normally have after washing!)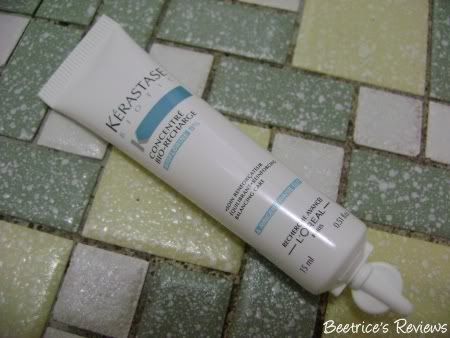 Each tube is just nice for one application
(I have fine but almost waist-length hair)
and the concentrate should be applied directly onto the scalp section by section until the tube is used up. Take note that this will take a fair bit of time, so don't plan it for the days you're in a rush! :D
After massaging, I usually leave it for the full five minutes and use the time to attack my soles with a pumice scrub
(hey, I have to stay in the bathroom for that time so might as well get soft soles out of it too right?)
before adding some water to my scalp. This emulsifies the concentrate and I work the emulsion down the hair shaft before rinsing off.
Immediately after rinsing, I found that my hair felt a little coarser than normal, but after drying my hair was actually softer than before. No more itchy scalp too, so I guess the concentrate did its job well. :) The hair loss is more or less now under control, although I'd be a lot happier if it were completely solved! But hey, there's another 3 tubes to be used up
(the recommended use is once a week)
so there's a way more to go, and I'm pretty happy with the results so far.
Price-wise, the Bio-Recharge Concentrate is not exactly budget pocket-friendly but it is cheaper than salon treatments. After all, it was meant to be an At-Home Programme so you're basically getting the salon results at home.
Kérastase Biotic Concentré Bio-Recharge

comes in a box of 5 x 15ml and is available at L'Oreal salons. Alternatively, you can also get it on
StrawberryNET
for USD66.50

(MYR228)
Rating: 4 / 5
Value: $