Getting clear(er) skin with Cellnique – Part 1…
LOL…got your attention with the title? It's simply because I don't have clear skin to begin with, particularly around the time lovely Aunt Flo decides to pay a visit. I'm one of those that may as well have a huge sign that says
"I'm having my period!"
thanks to the lovely hormonal zits that crop up on my chin every month – yet another price for being a woman. Lovely.
Ah well, I'm getting ahead of myself. Late last year I was sent two products by the people at Cellnique to try, and since they were meant to have been formulated to deal with oily skin I decided to try them out to see if they could help. The two products that I was sent were the
Advanced Bio Renewal Masque
(mask)
and
Skin Action Sebum Gel
(serum).
This post will cover the mask first.
Cellnique Advanced Bio Renewal Masque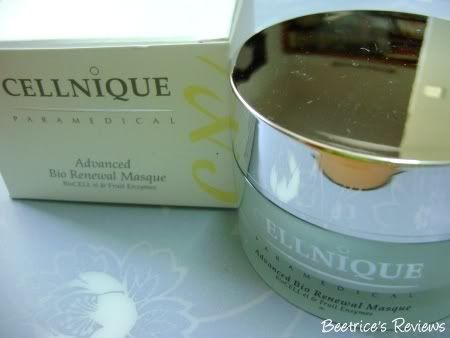 Description:
Cellnique Advanced Bio Renewal Masque is formulated with Bio-captured Fresh Fruit Enzymes and Acids complex to effectively exfoliate dead cells, optimize cellular renewal performance and cleanse pores deeply to reveal softer, fresher and healthier skin.
The Verdict:
The first thing I noticed about this when I opened it up was the tamper-proof sticker which is a good touch. However, the inside of the pot had only a tab seal which I found to be a rather messy process to open and close. It also doesn't come with any spatula or way to take out the product which isn't quite hygienic, but I wasn't too fussed since I already had one that I use regularly for this purpose.
Those gripes aside though, I had a pretty good experience with it – the smell is AMAZING! Its pineapple scent made me dream of the beach…pina coladas, anyone? :D The instructions said to apply a thick layer of the mask after cleansing and leave for 10 minutes before wetting the face and scrubbing gently. The reason for this is because the mask actually feels a little grainy in texture and does double duty to scrub off all the dead bits of skin.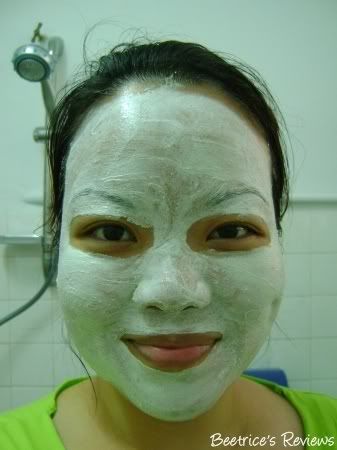 LOL! I decided to do a
"Jenn"
and post my masked mug here… :D They warned that a mild stinging and warm sensation may occur on the cheek area when using this, but I hardly noticed it.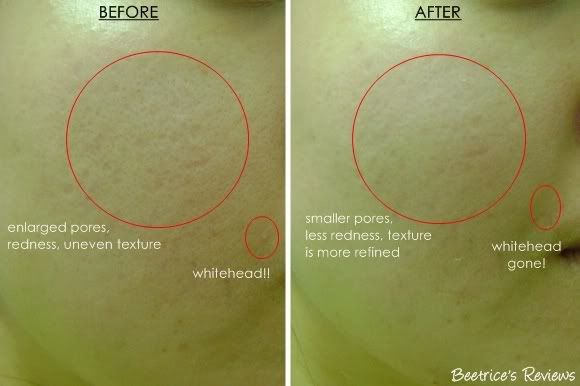 The results after 10 minutes? Hmm…I think you can tell from the pictures above taken of my left cheek. I was pretty pleased with the results, and despite the thought that applying the mask would bring all the deep-set pimples to the surface, I'm happy to report I didn't have any untoward reactions afterwards.
Better yet, I used this once a week and together with the Skin Action Sebum Gel, actually managed to stave off the telltale zits on my chin for two months in a row
(November and December)
which is really something considering I was under some massive stress which usually brings the not-so-lovely whitehead volcanoes rushing to the surface.

The
Cellnique Advanced Bio Renewal Masque
retails at
RM159 for a 50g pot
which puts it on the pricey side, but by my estimates a pot will last you half a year if used weekly so that's not too bad. As long as it keeps giving me the results, I'm game to continue using it. :)
You can also read what the other ladies had to say about this product:
Paris
Xin
Jenn
Coming up in Part 2:
Skin Action Sebum Gel!