Come on skin, wake up!! and a Promotion…
Have you ever had those days where your skin looks like it forgot to wake up with the rest of you? Dull, groggy, grumpy
(!!)
Heck, I think I'd be the first to stick up my hand – usually it takes a rather strong blast of cold water and a good meal to get the body going, but what about the face?
Well, I reckon the same principle can apply – cold water is obviously readily available, but what about breakfast for your skin? The answer comes in the form of
Biotherm's Aquasource 123
which is designed to be a fuss free, nutrient-packed "breakfast" for healthy skin in three simple steps.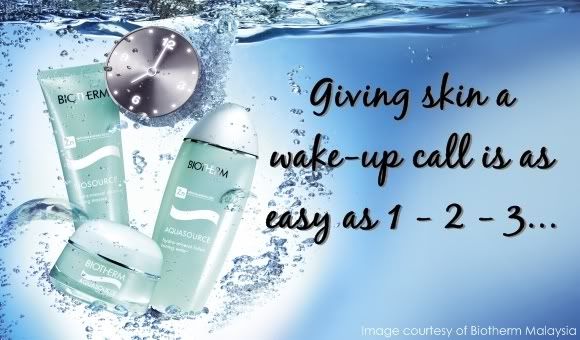 Three steps
(Biotherm has termed them as Cleanse, Balance and Moisturise)
to skin that says
"HEL-LO!!"
every morning instead of fighting me at every turn to get it going? Bears taking a closer look…
Biotherm recently reintroduced their new
Aquasource 1.2.3
with unique formulas, each enriched with trace minerals and pure thermal plankton. This trio is enriched with balancing Zinc which is ideal for those with normal to combination skin.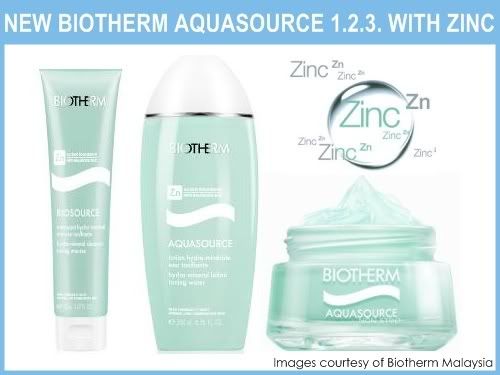 L-R:
Biosource Hydra-Mineral Cleanser, Aquasource Hydra-Mineral Lotion and Aquasource Non-Stop
Cleanse – Biosource Hydra-Mineral Cleanser
is a soft pale green cream that turns into a light silky mousse to gently cleanse and tone the skin. Comes in a 150ml tube.
Balance – Aquasource Hydra-Mineral Lotion
rebalances the skin as it hydrates, creating a fresh sensation. Comes in a 200ml flacon.
Moisturise – Aquasource Non-Stop
is one of Biotherm's flagship products, and concentrates the equivalent of 5,000 litres of spring water in an ultra-fresh, non-greasy texture to work like a hydration network on skin's surface to provide hours of moisturisation. Comes in a 50ml jar and is available in cream or gel formulas.
Promotion:
For the month of January, there's also a special limited edition of the Biotherm Aquasource Non-Stop Supersize available, which comes in a

125ml version for just RM210

(75ml more than the usual 50ml jars).

These are pretty rare, so it's worth checking out if this product works well for your skin. There are also some other promotions on the Biotherm Malaysia website that you can check out from time to time.
Alternatively, you can also check out my thoughts on the
Biotherm Aquasource Oil-Free Clarifying Hydrating Gel

(with Copper)
which I reviewed previously. Any thoughts on the new formula, or have you tried it for yourself?
Labels: biotherm, cleanser, moisturiser, promos, skincare, toner