Clarins Spring 2010 – Cotton Flower…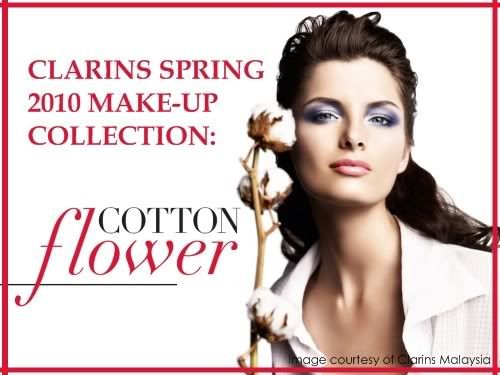 I know we don't get the four seasons in Malaysia, but can I still say
"Spring is in the air"
? :D After the deep colours of the winter season collections, this season looks to be skewed towards pretty and subtle colours, some of which can be found in Clarins' Spring makeup collection,
Cotton Flower
that'll be reaching us in a couple of weeks.
As always, there are a couple of limited edition items which are the Cotton Flower Face Palette and Cotton Flower Eye Quartet & Liner Palette, while they also add new colours to their permanent collection.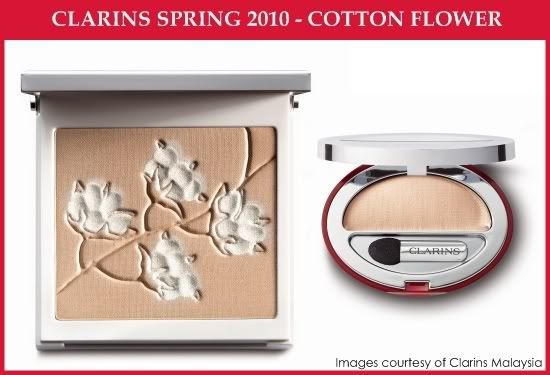 Limited Edition Cotton Flower Face Palette
and
Single Eye Colour in Desert Blonde
(also available in Dusky Rose)
– I really must say that Clarins' face palettes are getting prettier with each collection. There was the gold-dusted wheat pattern in their
Nude Inspiration collection
last year
(I only just recently managed to bring myself to mess up the pattern and use it!)
and this one is no different with a cotton flower motif.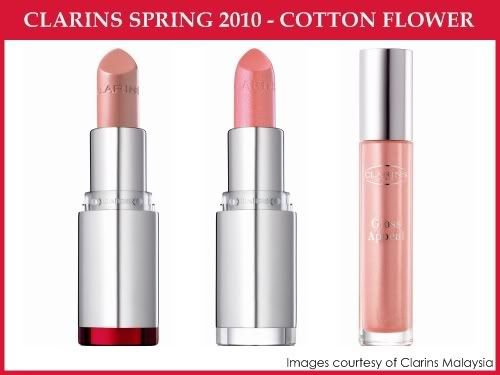 Clarins Jolie Rouge in Pink Blossom
(also available in Rose Berry)
,
Joli Rouge Sheer Lipstick in Sorbet
(also available in Toffee)
and
Gloss Appeal in Iced Pin
k – all the colours this season are in shades of pink and rose. I reckon it probably has something to do with the fact that many people overseas love holding weddings in Spring, and these colours are perfect for creating the
'come-kiss-me-already lips'
look… :D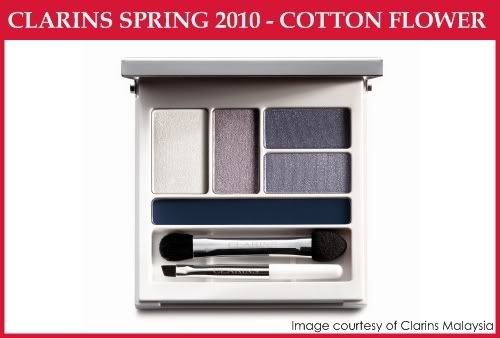 Limited Edition Cotton Flower Eye Quartet & Liner Palette
– this is the only product in the Cotton Flower collection that stands out among the others because of its deeper colours and blue-violet hues. Personally, I like the look of the glacier violet and blue lilac shades…I have a dress and heels that match those shades perfectly
(I just need the right occasion to wear it out…darn…)
Clarins Cotton Flower Makeup Collection:
Cotton Flower Face Palette – RM155
Cotton Flower Eye Quartet & Liner Palette – RM155
Single Eye Colour – RM63
Joli Rouge – RM83
Joli Rouge Sheer Lipstick – RM83
Gloss Appeal – RM83
The Clarins Cotton Flower collection will be available at all Clarins counters, boutique and Clarins Institut from 1st February 2010 onwards.

(if you'd still like to get your hands on the Nude Inspiration collection though, this would be the time to pick it up before they bring in the new collection!)
So, do you like/ love/ hate the new Clarins collection, and do you have your eye on anything in particular? :)
Labels: clarins, collections, coming up, makeup, spring