The Body Shop Merry Cranberry Lip Balm…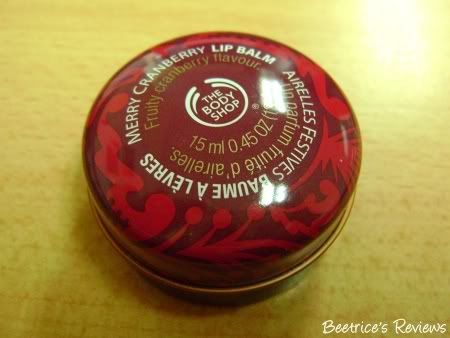 Last year I wrote about the
2009 limited edition festive ranges at The Body Shop
which consisted of the
Black Velvet Apricot, Nutmeg & Vanilla
and
Merry Cranberry
ranges. The Black Velvet Apricot was just 'meh' to me, while I didn't like the sweetness of the Nutmeg & Vanilla range. However, the one that I did like was the Merry Cranberry! I picked up a pot of the lip balm just before Christmas during one of the mini-sales
(hey, any reduction on the existing price is a bargain)
and have been using it for the past few weeks.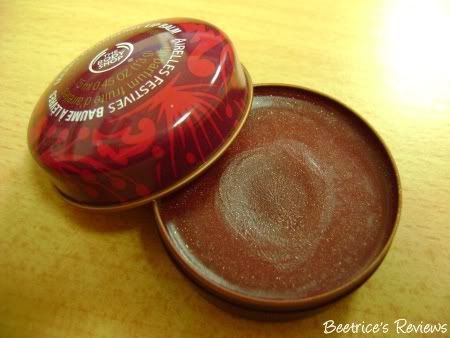 Description:
The Body Shop Merry Cranberry Lip Balm
is a fruity, moisturising balm with a delicate shimmer to leave lips feeling soft, smooth and well-protected. Contains cranberry seed oil, Community Trade organic beeswax, Vitamin E and Lanolin to lock in moisture, condition, nourish and protect the delicate skin on your lips.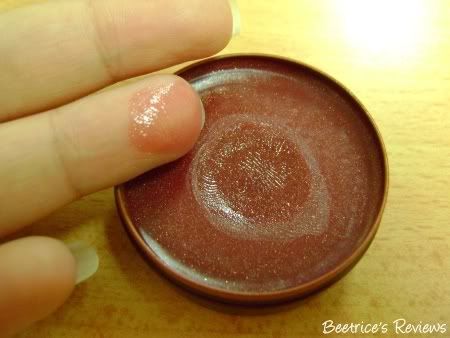 The Verdict:
I first came across the Merry Cranberry lip balm in Singapore during a weekend trip, and the one thing that totally had me hankering for it was the scent – it wasn't solely cranberry, but to me more of a blend of various berries…strawberry, raspberry, cranberry…I think you get the idea… :D
When I first opened the tin, I was greeted by the usual waxy surface that's quite typical of The Body Shop lip balms. No biggie, as once you swipe at the surface it's a breeze to use. I usually have to apply a fair bit of pressure to pick up the balm since TBS lip balms are quite solid and this was no exception.
However, once I got into it what resulted was a lovely tinted glossy sheen with a hint of shimmer – this would fall into the
"my lips but better"
category and even looks quite pretty when applied over my existing lipstick as the shimmer gives the colour a little 'bling' factor.
As far as lasting power goes, it doesn't have very high staying power
(a couple of hours at most)
and requires regular reapplication but given that it is a lip balm and not a lipstick or gloss, I'll choose to overlook that matter just because it smells so damn awesome that I'll make any excuse to reapply a fresh layer for a scent boost. LOL!
The Body Shop Merry Cranberry Lip Balm
retails at RM22 for a 15ml tin and is available at all The Body Shop outlets for a limited time.
Rating: 3.5 / 5
Value: $$
Labels: limited edition, lipbalm, the body shop