Stage-ing my Christmas groove… :)
How was everyone's weekend? I had a pretty packed weekend getting my car serviced, paying bills and attending both a wedding as well as a wake service
(not at the same time!)
plus got to have a good old food + chat-till-the-cows-come-home session with the girls.
(Actually, I think we put the cows to shame!)
Oddly enough, the whole 'feel' of the season didn't hit me until this past weekend
(Is it just me? Hands up if you're feeling the same way!)
Despite ooh-ing and aah-ing over all the Christmas sets, they appealed more to the shopaholic and beautyholic in me rather than bring around the Christmas feeling…does that make sense?
But with everything there's always a turning point, and for me it was last weekend. A few touches here, a bit of cooking there, pop up the Christmas tree, put up the poinsettia decorations, paint my fingernails Christmas-holly-berry-red
(Holly Berry....Halle Berry? someone should call a nail polish that!! heehee...or what about Berry Holly-days? OPI, please hire me!!)
, and voila! The Christmas mood is back in the game! :D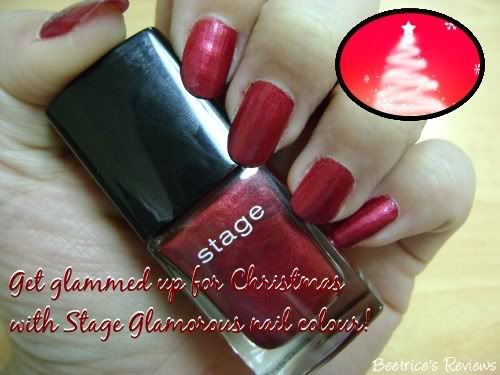 Nothing quite like holly-berry red nails to ring in the festive season eh?
(or any other season for that matter!)
It's such a pretty colour, and the nail polish is really just so easy to apply. Even with my klutzy hands
(I can do my left hand okay, but the right hand always looks like a disaster!)
I'm pretty happy with the results – all thanks to a bottle of Stage Nail Colour in Glamorous that I picked up at the recent Alliance cosmetics warehouse sales.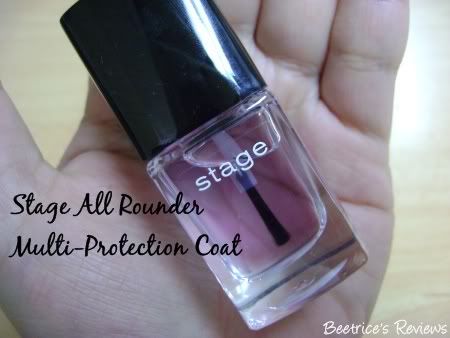 I paired that with the All Rounder as well, since it can double up as both a base coat and top coat. So far so good, will let you guys know how it stands up to my clumsy hands… :D
So Christmas is less than two weeks away…just 11 days in fact! Besides the rising panic of
"OMG-I-haven't-started-a-single-thing-yet!"
and
"How-on-earth-am-I-going-to-finish-my-Christmas-shopping?!"
, I think I'm actually settling into the festive season a little more mellow than previous years, maybe because my church productions have been wrapped up early this year, plus I'll be squeezing in a trip to Bangkok before Christmas… :D Can't wait!
What got you into the groove for the festive season this year?
Labels: nail products, tips n news