Simple mistake or scam?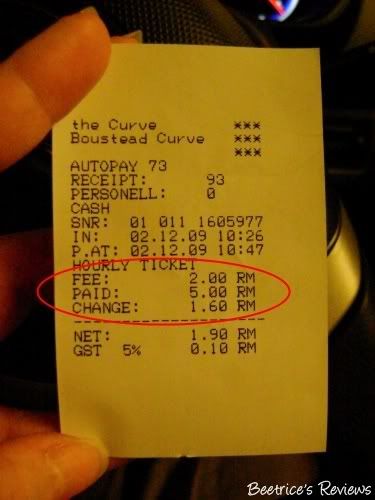 Just take a look at the picture above and tell me what's wrong with it?
I got this from the parking payment machine at Curve last week – the fee was meant to be RM2.00, but when I put in a RM5.00 note, I got RM1.60 back in small change…which was even reflected in the receipt! Erm, correct me if I'm wrong, but how can machines make mistakes to THIS extent? What's more, it wasn't an even number which makes it a bit suspicious.
Better yet, when I tried the customer service for help, this was what ensued:
Payment Machine Personnel (PMP):
Just go to the exit and they'll make the correction.
Me:
Any exit?
PMP:
Yes, any exit also can.
Fine, so I went to my usual exit to claim back the outstanding change. But when I got there, the booth lady gave me another runaround:
Me:
I need to claim back the remainder on this – the machine gave me wrong change. (shows receipt)
Booth Lady (BL):
Tak boleh, kena pergi exit lagi satu (meaning the exit at the OTHER END of the mall)
Me:
But your personnel said I can do it at any exit!
BL:
Tak boleh, tak ada borang (no form available)
Me:
Apa borang? (what form?)
BL:
Kena isi borang untuk claim, pergi exit satu lagi, sini tak ada. (the entire conversation, she had this bored expression on her face that made me want to slap her)
I had already been running late when the problem occurred, so you can imagine by this time I was seriously pissed off. I ended up having to reverse my car and driving to the OTHER end of the parking lot (which I had just driven FROM) and was met with still more nonsense from the booth guy:
Me:
(already irritated) Your machine gave me wrong change. (gives receipt)
Booth Guy (BG):
Apa? Cakap betul-betul. (apparently he doesn't understand English at all)
Me:
Mesin bagi wang tukar salah!
BG:
Haiya, you cakap betul-betul, ini bukan pasal saya. (say properly, this isn't my problem)
At this point, he just glanced at the receipt and gave me back my change. But the interesting bit started when I asked for the receipt back:
Me:
Itu resit tolong bagi balik. (Please give me back the receipt)
BG:
Apasal? Mengapa nak ambil balik? Tak boleh! (What's the matter? Why do you need it? Cannot!)
Me:
Aku kena claim untuk parking (I need it to claim for parking)
BG:
Tak boleh, kita kena simpan untuk rekod (Cannot, we need to keep it for records)
Me:
Habis tu, borang untuk apa? (If that's the case, what's the form for?)
BG:
Apa borang? Tak ada borang, hanya bagi resit. (What form? No form, just give receipt)
** and the lady at the other exit said she couldn't process it because she had no forms??
Me:
Fotostat pun boleh, asalkan saya ada salinan. (Even a photocopy will do, I need a copy)
BG:
Tak boleh fotostat (Cannot photostat)
Me:
Macam tu, bagi resit sini, I nak ambik gambar (If that's the case, give me the receipt, I'm taking a picture of it)
BG:
(getting panicky) Mengapa nak ambil gambar? Tak payah ambil gambar! (Why take picture? No need!)
Me:
Kalau tak, macam mana nak claim? You pulak nak simpan resit, kena buat macam ini lah! (If not, how to claim? You want to keep the receipt, I have to do this!)
Long and short of it, I ended up taking pictures of the receipt, otherwise there would be no record of this ever happening. And the thing is, it's not the first time this has happened. I can't imagine what would happen if I hadn't requested a receipt – then better still, no record at all to make the claim in the first place!
You might say RM1.40 is not much, but think about it – if everyone just let it go and shrugged it off, how much can be scammed off? 100 cars every day = RM140 extra per day…hardly a pittance!
*Grrr…*