Shu Uemura Holiday Collection 2009 by Tsumori Chisato…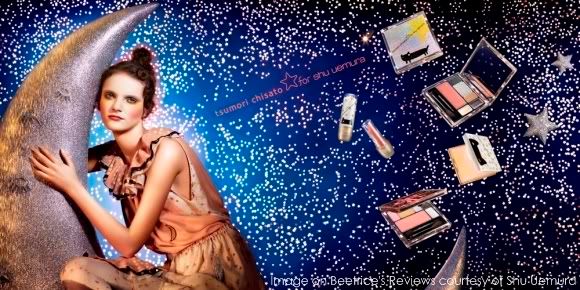 This is more of a holiday collection rather than Christmas per se, but it looks so sparkly it just had to make it into the year end collections! :D Collaborations are no stranger to Shu Uemura, and this time they've teamed up with Japanese fashion designer Chisato Tsumori to celebrate the art of beauty for
Shu Uemura's 2009 holiday collection
.
Amusingly enough, Chisato Tsumori's collection is a mishmash of various elements with predominantly cosmic, feline, retro and stellar influences scattered about the various products – definitely with a Japanese twist to it, since the best word I could come up with to describe it was…
"very kawaii"
. :D
First up are the palettes that come with pressed eye shadow, cream eye shadow/liner and glow on – there are two: Planet Cat and Planet Ribbon.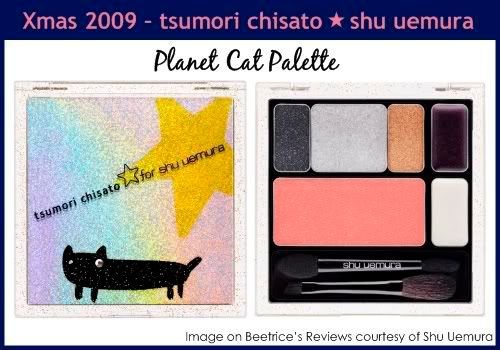 Planet Cat Palette
(RM198) – Limited Edition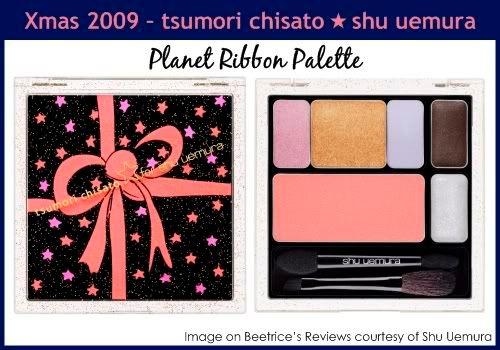 Planet Ribbon Palette
(RM198) – Limited Edition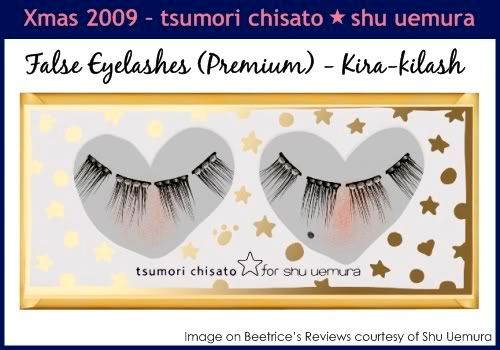 False Eyelashes Premium Edition
(RM98) – Kira Kilash
('kira-kira' means sparkling in Japanese!)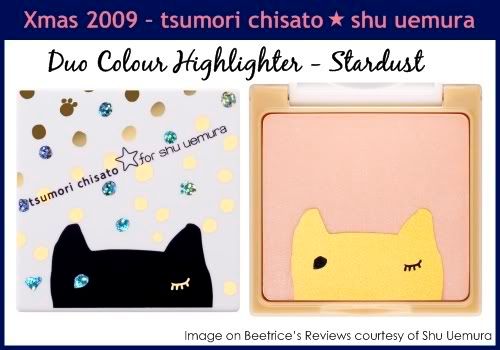 Duo Colour Highlighter in Stardust
(RM128) – Limited Edition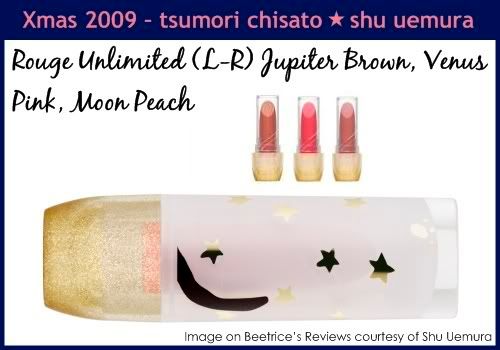 Rouge Unlimited
(RM88 each) – Limited Edition, comes in three shades to suit most skin tones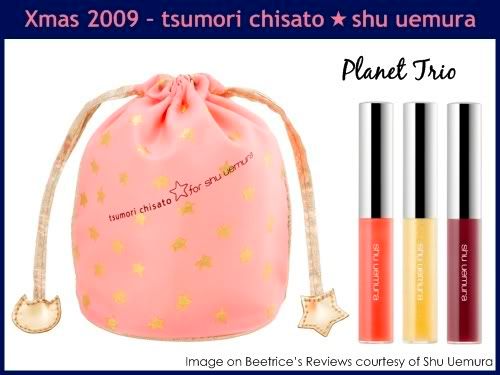 Planet Trio
(RM128 per set) – Limited Edition, contains three mini size glosses in Venus Peach, Moon Gold and Scorpion Red for luscious lips under the mistletoe. :)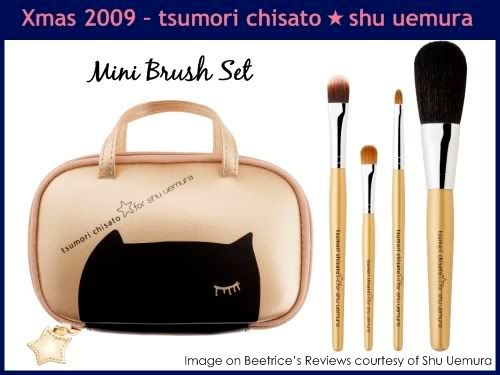 Mini Brush Set
(RM180) – Limited Edition pop-chic brush set and case that can be popped into your bag for any touch ups on the go.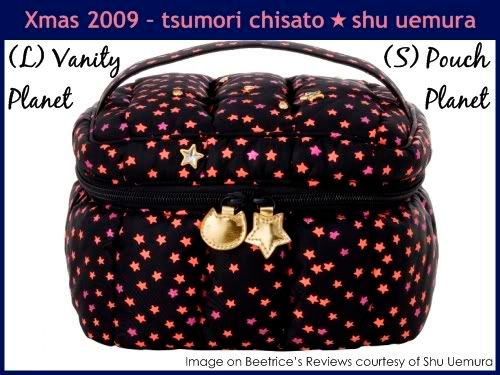 Vanity Planet
(RM248) – Limited Edition pouch (large size) and
Pouch Planet
(RM80) – Limited Edition pouch (small size) are both quilted and sturdily made to store all your 'kawaii' items safely.
Personally, I had a look at the Shu Uemura Tsumori Chisato collection when it first came out – the Rouge Unlimited caught my eye
(particularly the Moon Peach since it looked rather fetching when I tried it)
. Unfortunately though, seeing certain individuals overdo it on the collection has rather dampened my enthusiasm on it. Not because the collection isn't gorgeous
(really, you should go check it out for yourself)
but it's something that happens to conjure up certain images for me when I see it…I suspect it's the felines, but don't let me stop you! After all, the Rouge Unlimited I was looking at doesn't have the cat anywhere near it so you never know, I might just want it enough to change my mind. :)
Coming up:
Gift sets from Estee Lauder, Kiehl's, Origins, The Body Shop, Bobbi Brown and La Mer.
You can follow the
2009 Christmas collections lineup here
. :)
Labels: collections, false eyelashes, lipstick, makeup, xmas