Loving it when luck steps in…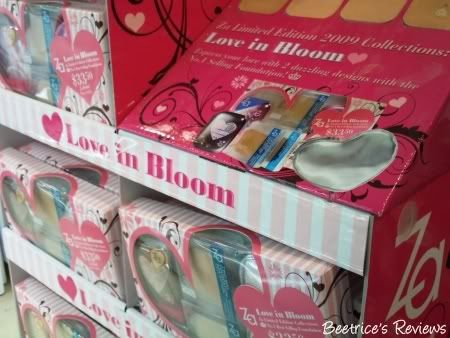 While I was browsing in Singapore a couple of weeks back in either Guardian or Watsons, I came across this ZA's
"Love in Bloom"
promotional set, which consisted of two refills of ZA's Two-Way Foundation, a limited edition compact
(choice of two designs)
and a pouch for SGD33.50. I was seriously tempted, but decided to 'think about it' since it was really the case that caught my eye, but not much else. I didn't manage to go back to that shop again before I left, so couldn't get it though…or so I thought.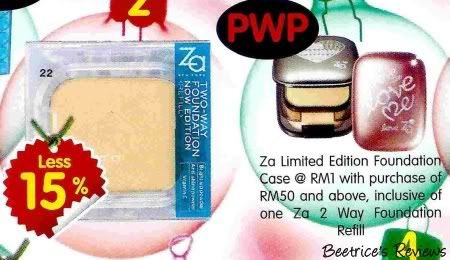 Hehe…while I was looking through the latest promotional booklet from Watsons, guess what I spotted? And with a better promotion too – I could get that limited edition compact for just RM1 with any RM50 purchase
(inclusive of a 2-Way Foundation refill).
Plus, since the 2-Way Foundation refills had been discounted down to RM28.90, I only had to buy two to hit the mark! :D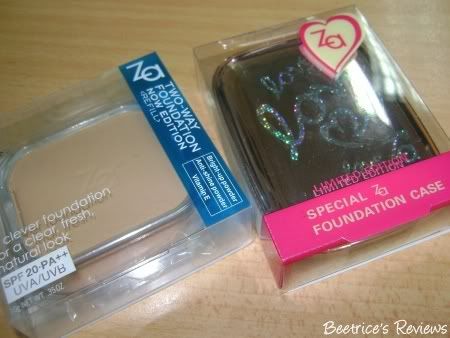 So, two 2-Way Foundation refills plus the compact came up to RM58.80, compared to the RM82 I would have ended up spending had I bought it in Singapore…RM23.20 for that tiny silver pouch? Hardly…three cheers for divine intervention! :D
Labels: foundation, promos, tips n news