When Men and Dolls Meet…
Who do you think of when we talk about someone who doesn't look a day close to her age? Sophia Loren? Goldie Hawn? Judi Dench? This doll really takes the cake…but then again, she's plastic so that doesn't count right? :D I'm sure all of us would have had at least one Barbie doll while growing up
(I know I was pretty obsessed with trying to accumulate as huge a wardrobe as I could for her back then!)
And if you're wondering, yup, I still have my collection in my room…somewhere…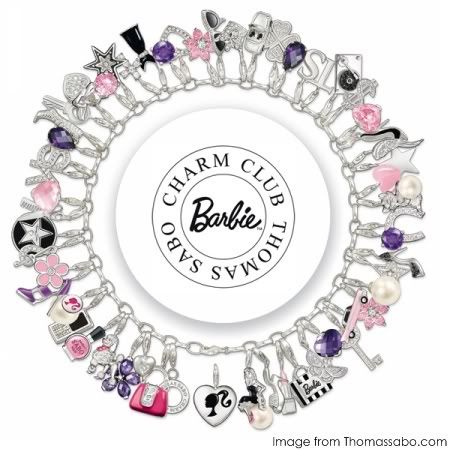 But that's for another day – now this is something I reckon most of us would be able to appreciate
(if not the overly pink in-your-face ones, the more shopping-centric ones would!)
Thomas Sabo
has designed a lovely collection of charms to commemorate Barbie's 50th Anniversary. I must admit, for a guy, he's definitely managed to capture all the things that go into making Barbie...I wonder why that is? ;)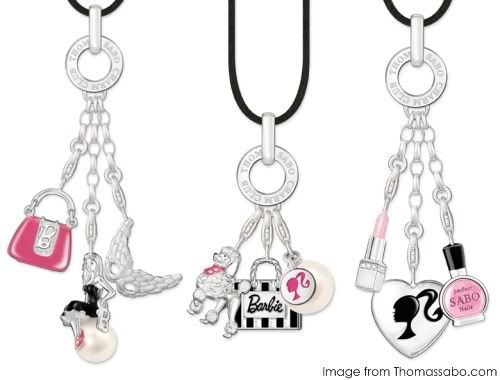 I can so imagine wearing these as a pendant or hanging them on my keychain…sigh…now, I'm not one for overdosing on the pink, but the "shopaholic" ones are right up my alley! :D

In love with charm bracelets, anyone?
*drool*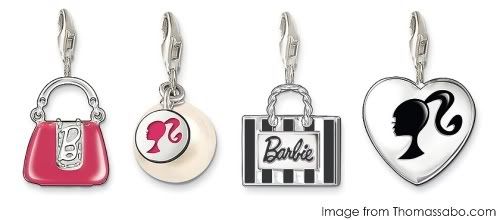 I wonder if we will ever be able to see them in the flesh
(figuratively speaking of course!)
here, since as far as I know they're only being marketed overseas. You can however buy them online on the
Thomas Sabo website
. Some early Christmas shopping is in order perhaps?
Hope you all had a fabulous weekend!
Labels: collections, jewelry, tips n news