What should I get a golf addict this Christmas?
I'm sure the above title was probably going through the mind of the designer when this was being conceived – Triumph has just launched their latest bra that – wait for it – unfolds into a putting green. Trust the Japanese to come up with something like this! :D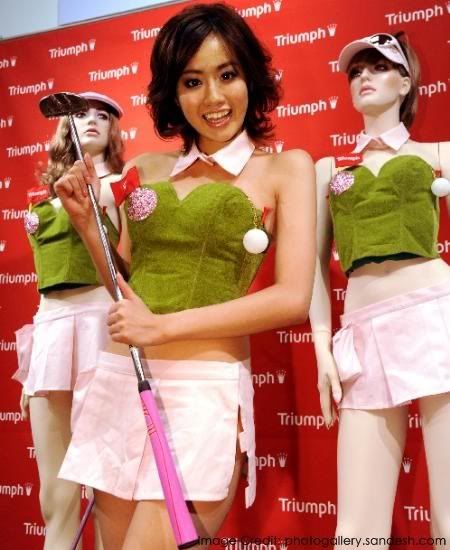 Reiko Aoyama, the campaign girl for Triumph International modeling the
"Make-The-Putt-bra"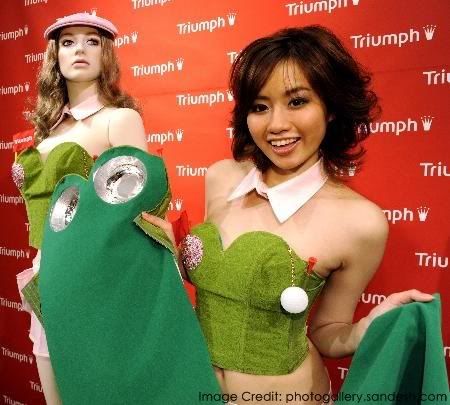 When unfolded, the bra turns into a self-contained 5 foot long putting mat complete with tee, golf ball
(just one?),
and a
"quiet flag"
(cunningly fashioned out of the skirt).
It even has an audio recording that says
"Nice in!"
when the player gets a hole-in-one.
(yes, I realise so many double entendres could come out of that sentence…heehee…oops, I did it again)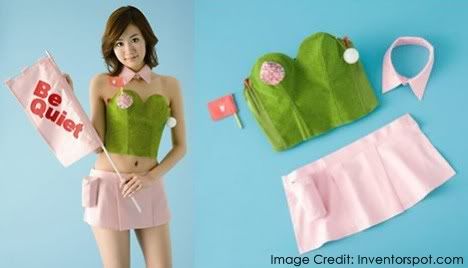 Then again, it does solve the problem of
"what to get?"
for a golf-crazy friend. I say friend, because buying this for a relative is just asking for trouble – my dad may be a golf fanatic, but I'm drawing the line at anything more than golf-themed ties, golf balls and the occasional book
(!!)
Who would the outfit be more tailored for I wonder – the ladies or the men? Bears some thought eh?
*wink*