Shu Uemura The Beauty Art Make-Up Competition 2009…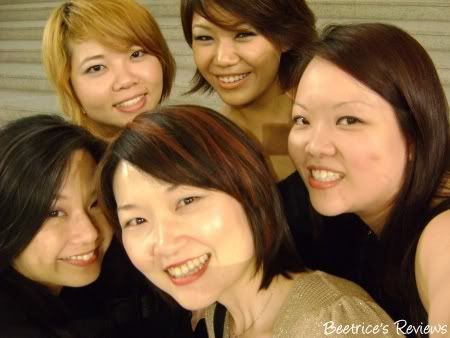 Remember this photo I posted last week? Well, this was taken during Shu Uemura's first ever The Beauty Art Make-Up Competition Asean 2009 with Mother Nature as the theme. So, what did we see apart from stuffing our faces with food
(in Connie's words – seared scallops!)
and chatting up a storm?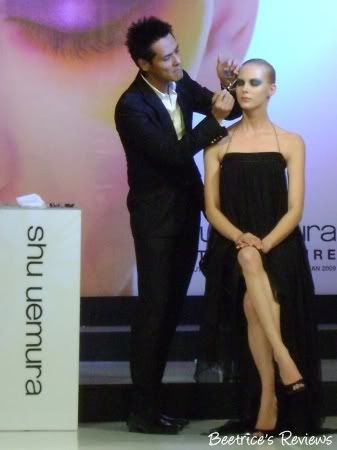 Uchide-san, the International Director for Shu Uemura was present to give us a whirlwind makeup demonstration – two model looks in five minutes is no easy feat. It seemed like a long time to those of us watching, but when you're in that hot seat, it probably feels like a heartbeat. I was quite amused that he didn't look quite Asian though…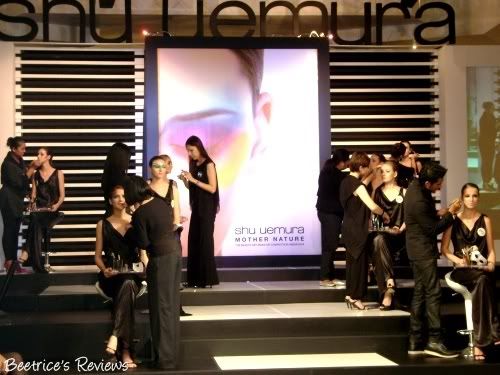 The makeup artists were given five minutes on stage to put their finishing touches on their participants – I found this a bit odd considering they had literally all but fixed their faces prior to coming out, but I suppose it was so the audience and the judges could see them at work in public.
While the judges were deliberating, there were also beauty showcases by the Shu Uemura Black Book Artists and Accredited Artists, with
"An Avant-Garde Xmas"
and
"Chic du Jour Xmas"
as their respective themes. One figure that started the catwalk was particularly scary, which was none other than
*cough*
a certain A.Chia
*cough*
…while the artist Steven Sunny has done fabulous work before
(he did the makeup for Rose Rose I Love You back in 2007),
it was not an idea choice of model –
youcallitmakeup thought she looked like the Grim Reaper
, while I thought she looked more like a Klingon from Star Trek
(thanks to a freakishly scary unibrow!)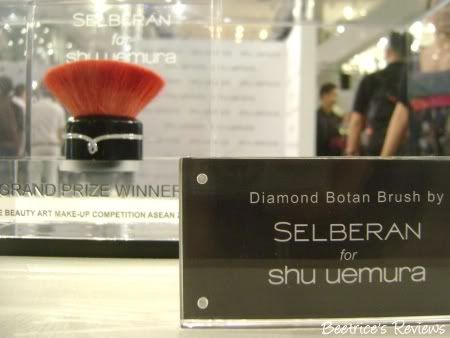 The Grand Prize – a Diamond Botan Brush by Selberan worth RM20,000…
*jaw drops*
…I reckon this was specially made for the awards, and is the only one of its kind…how cool is that? By the way, the winner was
Adeline Yeoh from Singapore
(didn't get many pictures of the event itself though since we were at the back and there were a lot of camera flashes going off!).
There were a host of interesting looks created that night though...will try to get some pics if I can to post up… :D