Operation Decoy: Success! :D
It all started a little over a month ago
(yes, that long ago!)
when a bunch of us got an email with the subject
"TOP SECRET"
soliciting ideas for a certain mutual friend's birthday. I'll say this about our mad group – we're very easily distracted, and most definitely indecisive! LOL…in as good a way as that can be, of course. :D
I believe it took no less than 50 emails
(not counting frantic chats and phone calls)
to set up everything, and as with the best laid plans, a couple of spanners had to be thrown into the works, albeit innocently enough…by none other than the birthday girl herself!
Particular panic ensued over trying to pin her down to appear at a certain place at a certain time, without her conveniently disappearing off with other plans
(always a problem with surprise parties!)
so after a couple of discreet enquiries, it was decided a 'decoy' would be planted to lock in the time…enter yours truly.
On the pretext of passing her some items over brunch, the plan was set into motion – everyone was to meet at the venue an hour before the designated "brunch decoy meeting" lest the surprisee happened to spot the surprisers arriving at the building
(to the point where some actually parked in a DIFFERENT building just to make sure…these girls think of everything!)
The morning arrived…and lo and behold, again everything that can crop up or go wrong, inevitably will…there was an amusing string of bloopers which I'm sure everyone can laugh about…now…
- I forgot to bring the booking sheet with me to collect the birthday cupcakes
(could have sworn I packed it into my bag the night before, but thank goodness the guy recognized me and let me collect the order anyway)
- the head schemer who was supposed to be there early got hauled in for some work emails at the last minute and running late
(also a problem since she was going to pick up other people enroute!)
- one person misread the emails and showed up an hour earlier than the original "early" designated time…waited rather a long time too!
- one overslept…thank goodness her husband was understanding and pushed her out the door saying
"you go, I'll make the bed"
(probably scared at the "OMG" scream when she realised she was late, but we gotta find ourselves men like this!)
- traffic was also a problem from Cheras…said person was praying that she wouldn't come across surprisee on the road!
- and last but not least, one got lost looking for the place…
*shakes head*
I told you the bloopers were good, right? :D But all's well that ends well – the surprisee was also running late, so we ended up having a bit of time to sort everything out before sending the decoy downstairs. The plan was to give a missed call to the schemer once surprisee arrived for them to hide before bringing her upstairs, but wouldn't you know…the venue we chose had no mobile reception! Yet another panic moment…LOL…nevertheless, we still managed to give surprisee a good shock when she arrived, so mission accomplished!
So, who have I been referring to exactly? None other than
ParisB
whose birthday we orchestrated at Marmalade in Bangsar Village II…whee!
(Paris, thought you'd like to know what went on behind the scenes. :D scary huh? Heehee…)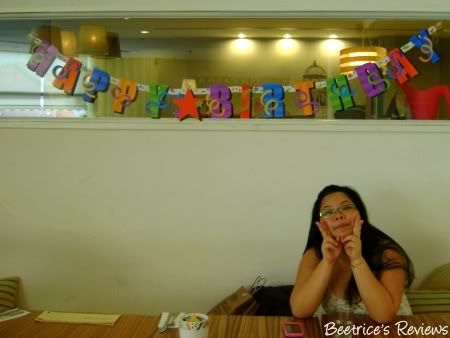 The way way early bird Jo with the birthday banner…told you she was early! :D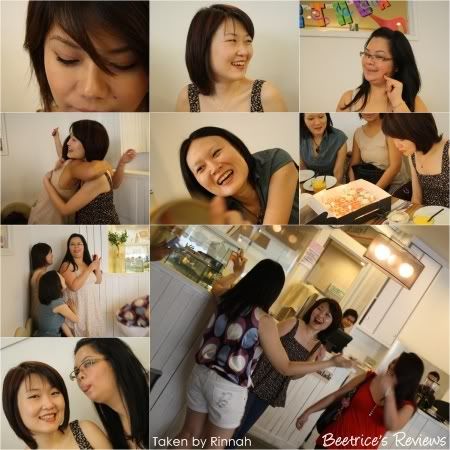 Above is a selection of photos beautifully crafted together by Rinnah – I thought the expression on Paris' face in the bottom right image says it all…LOL…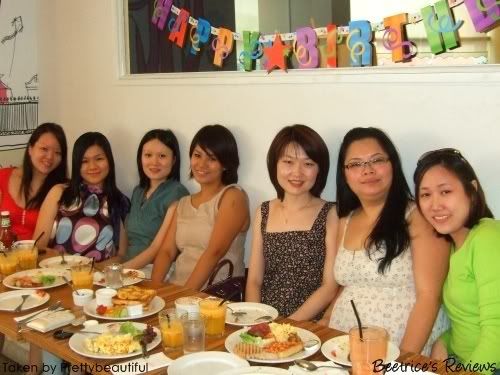 With the entire group…missing
Syen
though, who had to leave early – so, from left to right: Bee
(decoy brunch date),
Prettybeautiful
(lost soul)
,
Pinkelle
(schemer),
Connie
(schemer's passenger),
ParisB
(birthday girl),
Jo
(super early bird),
Rinnah
(traffic jam panicker and official photographer)
You bunch are seriously a scream to hang out with – Paris, hope you enjoyed the shock to your system
(I'm sure it's tame compared to the roller coasters!)
and here's to the next one! :D
Labels: events