Have you seen this Pink Mobile?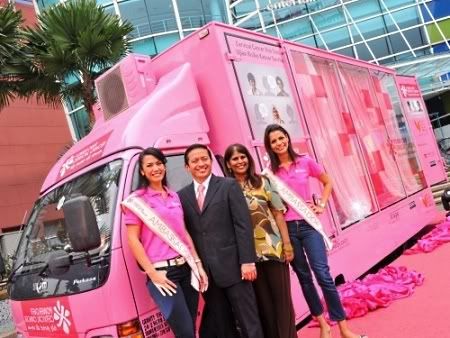 Some of you would have seen this huge pink mobile making its way around the likes of the Curve, Bangsar Village and Damansara Uptown over the past week – it's actually the '
Power Over Cervical Cancer'
, or
POCC Pink Mobile
aimed at raising awareness about cervical cancer.
Breast cancer awareness is now on the rise thanks to various campaigns, but the same should be done for cervical cancer too. Just check out the facts:
- Cervical cancer is the second most common cancer affecting today's women
- In Malaysia alone, cervical cancer makes up 10.6% of all female cancers
- Over 700 Malaysian women die from cervical cancer each year
The National Cancer Society of Malaysia (NCSM) has launched this Pink Mobile to achieve this, supported by GlaxoSmithKline (GSK) where women will be encouraged to complete a Cervical Cancer Risk Test. I've already taken it, and don't worry, no uncomfortable activities involved – you just need to fill in two sections highlighting information on cervical cancer and assessing your risk to contracting the disease. Better yet,
for each Risk Test completed, GSK will contribute RM1 to NCSM.
The POCC Pink Mobile will be headed around the Klang Valley area for the next three weeks
(you can check here for the schedule),
and are hoping to complete 10,000 Risk Tests by the end of the year. Those who drop by the locations get some perks though:
-
early birds
who complete the Risk Test at each location will get a mystery gift from Pureology and Stage Cosmetics
- every
500th woman
to complete the Risk Test will get hampers from Pureology and Stage Cosmetics worth RM250 each
- the
10,000th participant
will get Pureology and Stage Cosmetics hampers worth RM450 each
-
Redken styling products
will be available with a minimum donation of RM10, while
exclusive Redken merchandise
will be available with a minimum donation of RM15. All proceeds will be channelled towards NCSM for cervical cancer awareness programmes
Of course, if you can't make it to the Pink Mobile, you can also complete the
Risk Test online
, but let's face it, the mobile itself would be more fun right?
*winks*
If I'm not mistaken, they will be in downtown KL today driving around at 4pm, and at Twentyone kitchen+bar at 7pm. So, who's going? :D
Labels: cervical cancer, tips n news