Clinique Xmas 2009 Sets…
Gosh, it feels as if the end of the year has just crept up on me…I don't know about the rest of you, but I feel as if I only JUST celebrated Chinese New Year
(yeah, way behind time eh? LOL!)
and already Christmas is fast looming!
If this year is anything to go by, some of the holiday collections being released by the cosmetics companies are going to send us all into a tizzy trying to make up our minds which ones we want more
(if you can afford all of it, good for you…otherwise, welcome to the quandary!)
I've seen some gorgeous sets so far, as well as plenty more in the pipeline to be revealed in due time.
So if you're looking out for gift ideas and promotions for Christmas / Year End presents, check back here regularly…I'll be posting up a series of collections from now until mid-December. :D First up is Clinique with some makeup and skincare sets:
Long last Shine Set
(RM90)
– 4 purse-portable mini Clinique Long Last Glosswears in a chic pink pouch. Wear just one shade or mix them up to create your personal hue. Perfect for lipgloss addicts
(*sheepishly raises hand*)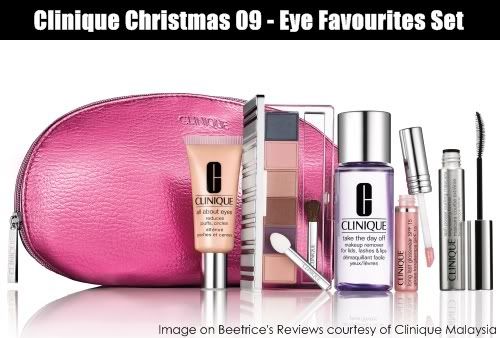 Eye Favourites Set
(RM220)
– Contains an eye cream and travel sizes of mascara, lipgloss and eye makeup remover as well as an eyeshadow compact in a pink pebble bag. If you have a jetsetting friend or relative, or simply travel a lot, this would be ideal.
Great Skin For Him
(RM145)
– How could we forget the men?
(not too difficult, actually…but *shhh*!)
While your partners would most likely scoff at using skincare on the pretext of it being too 'girly', I'll bet they've already secretly tried yours out right?
(it'll be our little secret...)
No matter, this kit comes in a 'manly' travel bag
(not pouch!

*wink*

)
and includes full sized shaving gel, face scrub and post-shaving balm.
All the coffret sets above are now available at Clinique counters nationwide.
Labels: collections, xmas