The Body Shop Love Etc…™ Love Truck @ 1 Utama…
So, did any of you make it to Sunway Pyramid or 1 Utama for the
Body Shop Love Etc…™ Love Truck
roadshow over the weekend? I hopped over to 1 Utama on Sunday to catch a gander, and was pretty glad I did!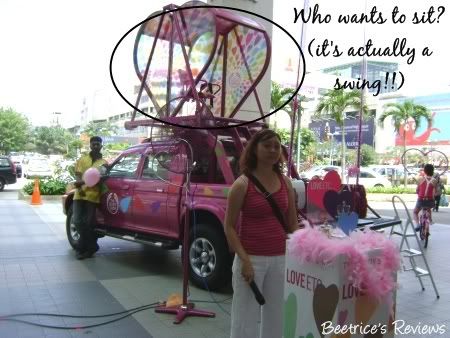 I want one of these…I actually didn't notice it was a swing until I saw the emcee climb up there!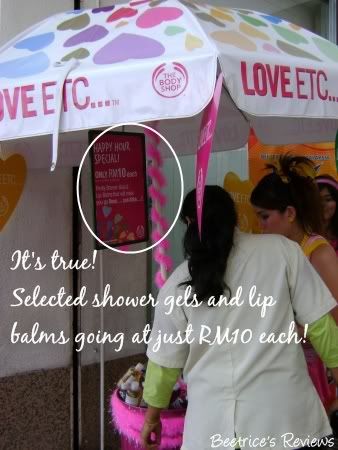 As mentioned in my earlier post, there are selected shower gels and lipbalms going for just RM10 each – no kidding! :) For shower gels, there are peach, pomegranate and strawberry variants, while for lipbalms you can choose from Satsuma, strawberry or pomegranate. The selection is subject to change at each location, but nevertheless still a sweet deal
(sorry couldn't resist!)
While we were there, I saw this girl pedaling around in the distance in a funny looking set of wheels…in case you were wondering, the handlebars were modified to form the base of the big heart! :D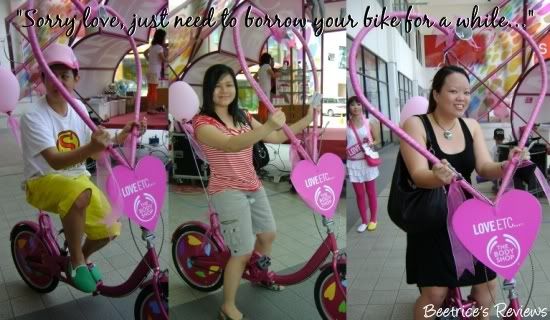 Don't play play…Xin and myself ended up derailing one of the guys riding that bike to let us have a shot…so kewt!
There were also performances by some dancers which were pretty good
(they had to be for a small kid to decide he also wanted to dance! I uploaded the video to the Facebook Body Shop page, so you can pop over there to have a look if you want)
The Love Truck will be in SS2 today, as well as in Bangsar this Thursday…so who's going to drop by this round eh?
*wink*
Labels: events, tips n news