Birthdays are a time to be thankful...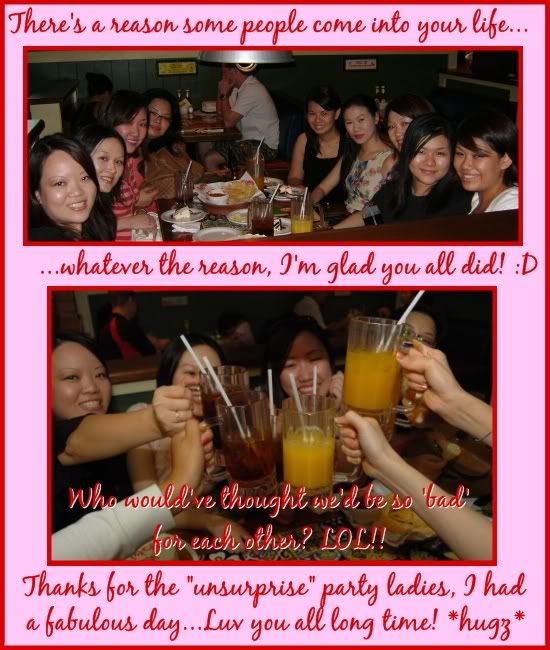 Since my birthday this year falls on a weekday, the girls planned an
"unsurprise"
party at Alexis last Saturday. Reason for the 'unsurprise'? LOL…since my birthday and Paris' aren't that far apart and given that we'd already scared a year's growth out of her for that surprise, two surprise parties so close together make for an
"unsurprise"
…heehee…
True to fashion, we had the usual drama
(this time partially sparked off by yours truly…*paiseh*)
but it made for a fantastic time. And it was also a special time for me too not just because it was my birthday, but it also marked a year since our entire group had met face to face! With the exception of
Paris
and
Pinkelle
who I'd met a couple of time before, I'd met
Syen
and
Kahani
in early November when we had an introduction to Stage Cosmetics, and had met
Joanna
,
Connie
,
Hui Xin
and
Rinnah
at the start of the mySimplifieds beta-testing program…and the rest, as they say, is history. Who would've thought we'd be able to get on so well? :D
We're incredibly bad for each other
(I dunno about the rest of you ladies, but I think my lemmings and shopping damages have gone up considerably in the past year thanks to you all!)
not to mention that every time we meet, we end up behaving like a group of giddy schoolgirls talking nonstop, and THEN some!
From charging at sales head-on, various events, countless hours of chitchat and gossip, the
"OMG-you-gotta-try-this"
makan trips, a road trip and even TWO weddings
(well, three if you count Tine's!)
, you all have definitely made the last year anything but boring…thank you once again for your
presence
and
presents
on Saturday, and
*cough*
when's our next outing eh?
*wink*
Labels: random