What will you be this Halloween? :D
Halloween is fast approaching this Saturday, isn't it? I always thought Halloween was only celebrated in the US when I was younger – definitely no trick or treating for me as a child, but there seems to be a proliferation of Halloween knick-knacks and outfits hitting every imaginable store these past few weeks
(even Carrefour!)
Of course, Halloween would not be complete without its scary/funny/weird outfits, which nowadays isn't limited to just children and pumpkins – when else can grownups dress like they're insane and get away with it? LOL!
Personally, I was rather taken by these wigs I saw when I dropped by Paperdoll over the weekend…in such bright colours too!
(can double up as a safety reflector too – I'll probably be visible at 50 metres!)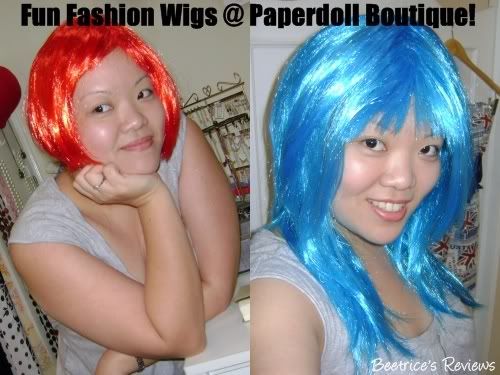 The wigs are available in fluorescent red (only short bob available), blue and pink (short or long) -
the red reminded me of Alias (Jennifer Garner), and the blue reminded my friend of Aqua's Barbie Girl! *ooops*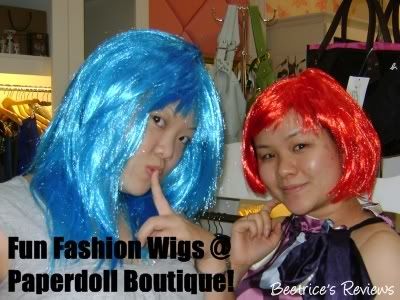 Hamming it up with
Prettybeautiful
– see what I mean by grownups gone insane? :p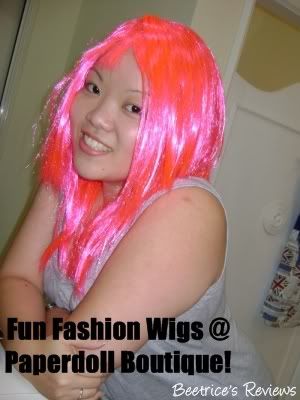 This is my favourite out of the lot actually – whaddya think?
*wink*
I reckon if I add a little dominatrix to it with some goth makeup I'll be ready to go! :D
The wigs normally retail at RM58 each, but have been marked down to a
bargain RM39
each, which is pretty good value. They don't 'cook' your scalp either since the cap is well-aerated…no point in having limp stinky hair once you take it out right?
On a side note, what are YOU going to be dressed up as for Halloween? :D
Paperdoll Boutique
Lot L1-43, 1st Floor,
Tropicana City Mall,
Jalan SS20/27,
47400 Petaling Jaya
Labels: bargains, tips n news, wigs