Silkygirl Silky White Lightening 2-Way Foundation...
Hands up for cheap and good products! :D When Silkygirl was first launched in Malaysia as a new home-grown brand, I was rather sceptical about the products wondering whether they'd work well despite their uncanny resemblance to many of Wet n' Wild's range (right down to the spokesperson they used, since Paula Malai Ali was formerly a Wet n' Wild ambassador) However, there are some gems to be found in the midst of these products, one of which is the Silky White Lightening 2-Way Foundation.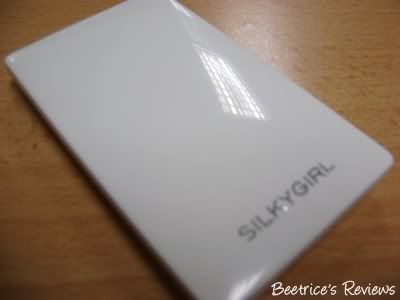 Description:
Silkygirl Silky White Lightening 2-Way Foundation is specially formulated with lightening ingredients, Vitamin E and SPF 15 to protect your skin from UVA and UVB. Provides long-wearing coverage and a matte silky finish which doesn't look dry or cakey. Apply dry for light and natural coverage, or dampen sponge to use wet for medium coverage. Oil-free and fragrance-free.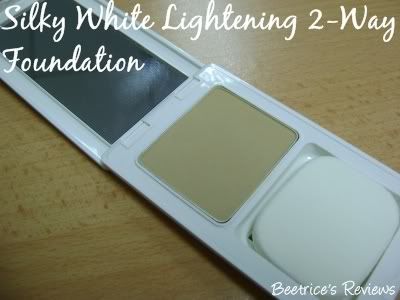 The Verdict:
Being a fan of 2-way foundation
(it saves me heaps of time in the morning when I'm rushing!),
I've tried a fair few so far. The shade I have for the Silky White Lightening 2-Way Foundation is
#04 – Sand
(I've also tried #03 – Medium previously).
The compact comes in a sleek white case with a generous mirror and space for a sponge. The foundation gives a matte finish with reasonable medium coverage
(full if you use it wet, which I don't have a need for)
and works particularly well for people with oily skin
(hello!)
since it can help with absorption of excess oil. Those that have dry skin may find this a tad chalky on their skin, though this is somewhat to be expected since the Silkygirl line was derived for younger
(hence by association more oil-prone)
skin.
The best part though, is that despite having oily skin, when applying this foundation I don't have to worry when photos are taken as it seems to 'float' on top of the oil
(does that make sense?)
and doesn't show through on photos. Despite the evidence of oil on the blotter when I blot after a few hours, in photos I simply look dewy..
.*love*.
..and at the price, gosh, it's not going to break my
(already broken many times over)
piggybank. I've gone through about three of these already, so you can imagine how much I love it! :D
Silkygirl Silky White Lightening 2-Way Foundation retails at RM26.90 for a 10g compact and is available at all Silkygirl counters and major personal care stores.
Rating: 4 / 5
Value: $$$
Labels: compacts, economical, foundation