Shu Uemura UV Under Base Fluid…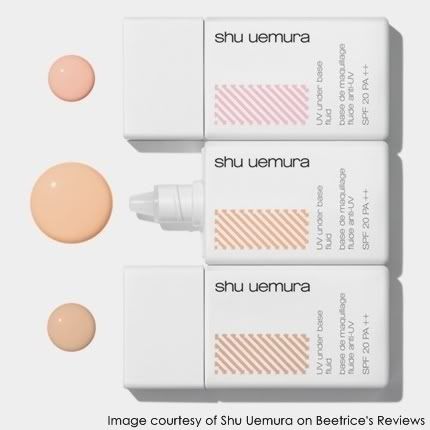 During my previous post on
Shu Uemura's Nobara Cream Cover Stick Foundation
, I mentioned that it was one out of two new products that had been launched by Shu Uemura during that time. Well, here's the other one – Shu Uemura UV Under Base Fluid. :D I'm sure most of you would have heard of their Under Base in mousse format, but this time Shu Uemura has opted to release it in a fluid format.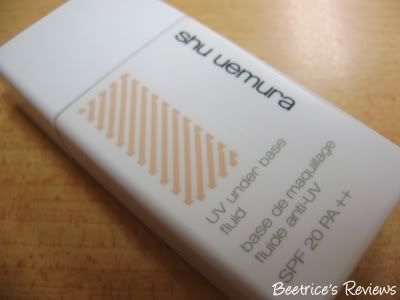 Description:
Shu Uemura UV Under Base Fluid is a makeup base designed to create a refined and smooth skin canvas for perfect application of foundation. This beautifully evened out complexion is achieved by selected pearls and powders which creates a smooth surface for even light reflection. The fresh and watery texture with superb spreadability creates a thin layer of comfort for a long lasting beautiful finish. Allergy tested and non-comedogenic.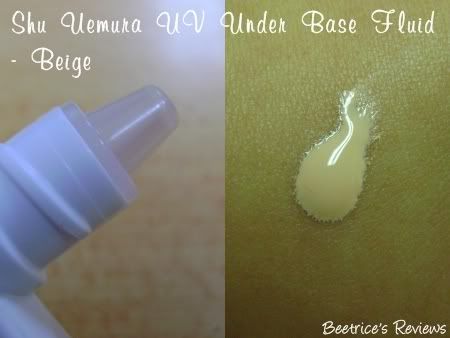 The Verdict:
Shu Uemura's UV Under Base Fluid comes in three shades – pink
(for brighter even complexion),
beige
(for natural even complexion)
and medium beige
(for naturally lightened complexion).
The shade that I got was
Beige
, which was probably the best choice for me given that I had a scary experience coming out with a
'pink'
look thanks to Benefit's 'That Gal' primer previously and was rather apprehensive of coming out with a similar result.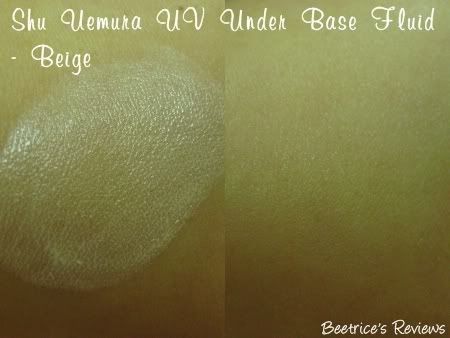 As it turns out, I really needn't have worried – being a Japanese brand, there's a minimal amount of pink undertones in the base
(even the Pink one),
which is just enough to bring out a little colour but that's about it. While I found the nozzle tube of the bottle easy to work with, it did occur to me that I would have to store the bottle upside-down in order to get the last bits of the fluid out once I'm through with this bottle since it is made from quite sturdy material.
The UV Under Base Fluid is very easy to work with, and melts into my skin almost immediately. No big complaints using it, although I noticed that it offered a bit more coverage compared to the mousse version of the same. For those with oily skin though, you may need to apply a mattefying/ oil-control primer or product as well since this will not control oil but will keep your makeup in place regardless. I got around this by using an oil-control foundation on top, and haven't had any problems otherwise.
To be honest, this did remind me of
Stage's Opening Act primer
– both are quite similar in texture and effect, although the UV Under Base Fluid trumps Opening Act in the SPF department with SPF20 compared to Stage's SPF12. Price-wise, Shu Uemura obviously comes across as more expensive than Stage, but still just one third the price of Benefit's That Gal when compared at price per ml. In the end though, I guess it's just a matter of personal preference and budget, since both products have their individual benefits. :)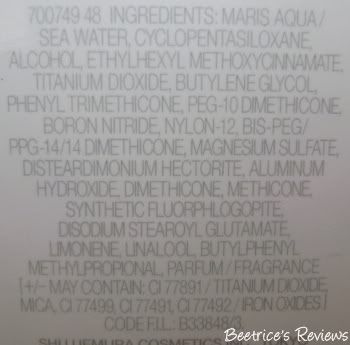 Shu Uemura UV Under Base Fluid retails at RM135 for a 28g bottle and will be available at all Shu Uemura outlets from October 2009.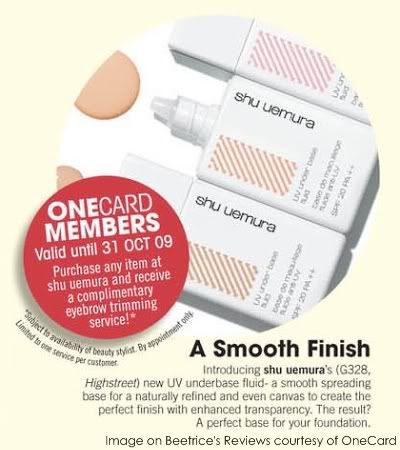 For those with a One Card, this should perk you up…until 31st October 2009, you can get a free eyebrow trimming with any purchase at Shu Uemura! How's that for adding a bit of bang to your buck? :)
Rating: 3.5 / 5
Value: $$
Labels: makeup base, promos, shu uemura