Nivea Lip Care Star Fruits Pink Grapefruit…
Hi hi!! Missed me? On my whirlwind weekend down to Singapore to catch up with some friends and escape while my room back home was being painted, I did squeeze in some retail therapy
(oops!).
I'll divulge the rest of my purchases later, but I could not resist sharing this one with you first!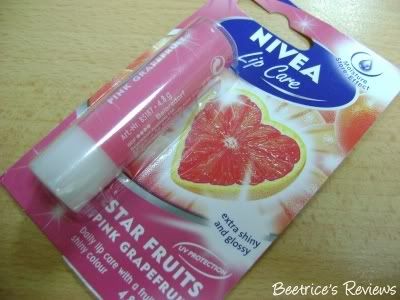 Thanks to fellow pink grapefruit lover Kahani, I knew that Nivea Lip Care had the Pink Grapefruit variant of their Star Fruits down south, and promptly picked one up for myself when I spotted it at a pharmacy. Sadly, I paid full price for it, but nevertheless it was still a bargain!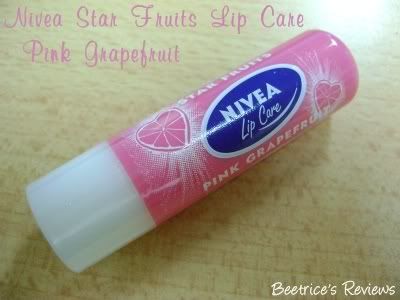 Description:
Nivea Lip Care's innovative caring formula is based on Grape Seed Extract and skin's own Hydramine for long-lasting natural moisturisation of the lips. Its unique blend of fruity scents and glossy colour makes your lips even more desirable. Nivea Lip Care Star Fruits Pink Grapefruit provides daily moisturising care and contains natural ingredients Almond oil, Jojoba oil and Shea Butter to effectively protect your lips from drying out. The result? Soft fruity lips with a subtle glossy colour.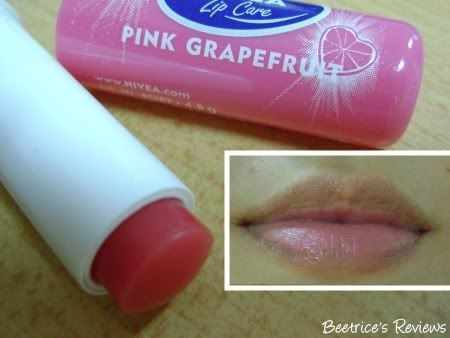 The Verdict:
When I opened it up, I was immediately sold on the fresh scent that wafted past…and even more so when it touched my lips…*swoon* This baby has a slightly muted scent when brand new, but the grapefruit-ish scent comes up once you use it. In fact, it's actually remarkably similar to my
Daiso Fresh Grapefruit Lipbalm
. The colour isn't much to shout about as it is supposed to give just a hint of colour, but it's still nice and glossy - and I like the MLBB effect! :D
Kahani reckons that the lipcare is very similar in colour and scent to Benefit's Coralista
(you can go here for her take)
which I'd have to agree with. It looks absolutely gorgeous when mixed with any red tint. For now though, I'm content to wear it on its own and smack my lips!

Nivea Lip Care Star Fruits
is available in Strawberry, Cherry and Pink Grapefruit
(please note that not all flavours may be available in-country)
and retails at approximately SGD4.00 at all major personal care stores.
Rating: 4.5 / 5
Value: $$$
Labels: bargains, lipcare, tips n news