Klang Valley Food Hunt 2009 – the good, the bad and the ugly…
** Warning:

This is a long post! It isn't beauty related, but there is a review of the Maxis Finder301 service below as well as some other matters, so have a read and let me have your thoughts!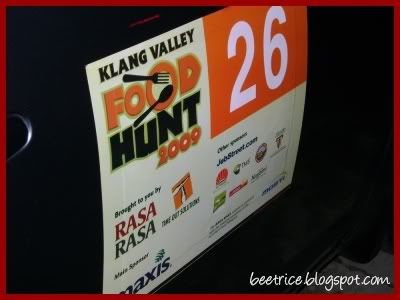 Last Saturday saw a bunch of us bloggers scrambling around the PJ/KL area participating in the Klang Valley Food Hunt organized by Time Out Solutions and Rasa-Rasa. It was the first time
ParisB
,
Pinkelle
,
Rinnah
and myself grouped up as a team to enter, so honestly we had no idea how we'd do
(the standing joke was

"must, must come back with something…or die trying!"

)
And dying we most certainly came close to – waking up at
6.00am
to dive into cryptic anagrams and clue-solving is pure torture on the brain. I can't begin to tell you how many people were toting coffee mugs and thermoses at the starting point. In hindsight, the organizers would have been better off getting the Nescafe people to set up their truck there instead of the Nesvita one that showed up as we were about to flag off.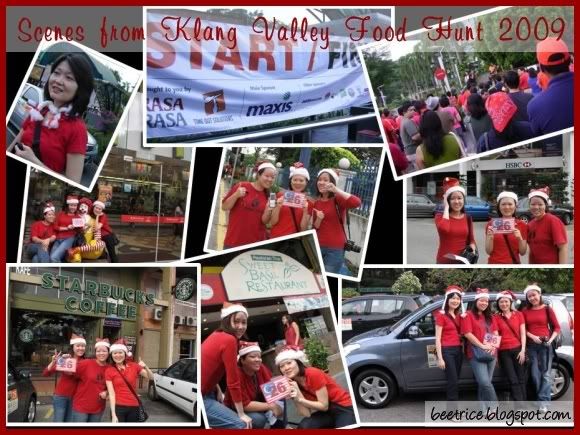 Similarly to the amusement to my other team members, although the race was called the
'Klang Valley Food Hunt'
, we didn't venture anywhere close to downtown KL – the race covered mostly the PJ area with sections in the likes of Hartamas and Bangsar in KL. I guess we should be thankful for small respites, since I cannot imagine if we had to hunt for clues AND navigate through the insane traffic in KL at the same time…sure to have a few accidents!
One of the tasks we had to complete after handing in our answers was to make and toss a roti canai in 60 seconds…dammit, the photographer just had to take a picture of me with my roti canai just as a big hole opened up – what's more, thanks to that hole, it ended up being displayed at the event that evening! Eeeps…
The prize-giving ceremony was held later in the evening at the 3K Complex in Subang Jaya, which was massively jammed given that it was also the same day as the Mid-Autumn festival. But more on that later…now that you have an idea of what the hunt was about, let's get to the good, bad and ugly bits…
The Good
1.
The clues set by the Time Out people were seriously challenging, but not to the point that we didn't enjoy ourselves. Some of them were quite easy to solve once we got the hang of it, but the cryptic ones…wahliao…hats off to those that got the answers to those!
2.
Our team
(we called ourselves the Blogger Babes…no prizes for guessing why!)
ended up working pretty well together…no arguments, no strangling each other…hey, this combination works! :)
3.
The areas chosen for the hunt weren't too high traffic, which meant that we could navigate the routes pretty safely without rushing.
4.
We managed to complete the hunt half an hour ahead of the allocated time. Not bad for a newbie team?
5.
The food served at the prize-giving dinner was good and plentiful…hey, for a food hunt, the food had better be good! LOL…
6.
Before the answers and winners were announced, the organizers did a photo recap of the entire day's activities which everyone really enjoyed
(despite seeing us in some rather unflattering shots!)
7.
We managed to place 31st out of 139 teams, which got us a hamper of sorts to share…which means we didn't have to die in the attempt as mentioned earlier! :D
The Bad
1.
Some of the drivers were really bad! We saw quite a few that stopped right in the middle of the road
(with two way traffic!)
to take pictures.
2.
3K Complex in Subang Jaya on a weekend is
not a good place for a venue!!
We had decided to carpool there since we figured with 139 teams going
(equivalent of 139 cars at least!)
parking was going to be a problem – we should have been more worried about how to get there. The journey from my place in Damansara Utama to the Complex took us over an hour!! Seriously organizers, please pick another place in future…we finished Leg 2 of the race in the time it took us to get there!
3.
Maxis chose to introduce their
Finder301
service as part of the food challenge during the hunt – and it
SUCKED BIG TIME!
When they first told us about it during the briefing, Paris and myself tried it out…and long after exiting, it was still sending me locations and options up to four hours later
(and getting msgs on my phone at midnight when I'm trying to sleep was NOT fun)
We thought it would be better on the day itself, but alas, it was not to be…
To use the service, all you have to do is type in your search criteria
eg.

'kopitiam', 'chicken rice',

etc.
and send to '301'. The service will then respond to you with the options available in your area based on your location
(three options at a time).
Finder301 touted this service as 'free', but take note, your standard SMS charges still apply
(plus data charges if you opt to retrieve the map).
And by the way, the first message you get after sending your search term is not the results immediately, but rather the Finder 301 message telling you
HOW
to use the service – a bit stupid right, considering you
ALREADY
sent a search item to 301??
During the hunt, we decided to search for
'kopitiam'
since we were in the vicinity of a few. The results?? Even though we were
less than 50m away
from the Old Town Kopitiam in DU, the immediate search results came back from places as far as Bukit Bintang, Aman Suria, and even 1 Utama!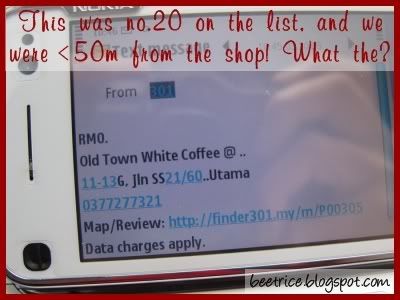 The Old Town Kopitiam location we wanted came out as
#20
on the list – cost-wise, how much would you say that was? Let's see…
(SMS to 301) + (7 SMS requests for next page) + (message to access details of #20)
= 9 SMS at approximately 10sen each = RM0.90. And that was just for ONE location – we were supposed to take pictures of EIGHT locations for the food challenge using Finder301.
I'd say we spent a minimum of 6-7 ringgit just to use the damned thing, which doesn't seem like a lot but when you consider that normal people aren't going to pay that much
(or spend that much time)
using a service that doesn't meet their needs, it's a lot! We were forced to use it considering it was a prerequisite for the race, but suffice to say I won't be using it outside of the hunt.
Maxis could have earned themselves more brownie points by actually making sure the service worked properly before releasing it, instead of using the hunters as guinea pigs to test out the service. When there are rewards at stake, competition is rife, and having to contend with a frustrating application can wear down one's patience.
The Ugly
– these are a couple of things I observed during the dinner which left a rather bad taste about the whole thing…
1.
Out of the 139 teams that participated in the Food Hunt, 100 were paid public entries while the remaining 39 were made up of partners, sponsors and invited media. Before the answers were revealed, there was an announcement for some teams to collect a
'special token'
after the event. All the numbers announced were from #101 onwards with gaps here and there.
It wasn't until the prizes were announced that I realized that the reason there were missing numbers in the mix of
'special tokens'
was because those remaining numbers had scored high enough to win one of the top 40 prizes. For an event where there were paid and non-paid entries, I didn't think this was fair. If they had wanted to, they could have just given each of the 39 teams a token regardless of their score, or separated them in a category by themselves instead of letting them win from the pool of prizes
(keeping in mind that some of the participants were the sponsors themselves)
2.
At the prize-giving dinner, we had unknowingly seated ourselves at the same table as three Indian ladies and some friends of theirs
(two separate teams).
During the course of the dinner, at least one person came up to congratulate the three ladies, which we initially thought was just nonsensical banter especially since the winners had yet to be announced. However, as the evening wore on, we noticed that they were extremely quiet when the winning teams were being announced. A clear indication that something was not quite right was when the second prize winners were announced – while they were making their way up to the stage, one of them loudly whispered to the ladies while walking past
"You're number 1! You're number 1!"
As it turns out, these three ladies did turn out to be the 1st prize winners, with a score of
173/180.
I'm sorry, but to me that sounded rather fishy as there were other professional teams there that only managed third placing onwards. To get such a score, they would have had to get literally ALL the questions right – and as announced, they made a
'perfect'
roti canai toss
(not something you'd expect from someone who doesn't make roti canai for a living).
Since they had showcased the
'roti canai tossing'
abilities of random entrants earlier, they should have showed us the
'perfect roti canai toss
'…but this did not happen.
The clincher came at the end of the event while we were packing up. The Maxis representative that had previously briefed us about the Finder301 service came up to talk to the winners, and we heard him ask them
if they were Maxis staff
…to which they answered
YES
. What the…??
Mind you, I'm not being a sore loser here
(I'd already gotten a consolation prize, and wasn't expecting to win anywhere close to the top prize)
but employees of the
MAIN SPONSOR
winning the top prize is not considered ethical. Far be it to begrudge them the fun of participating in such events, but as such there are limitations to winning prizes.
On a personal level, I've had to refrain myself from participating in certain contests simply because I felt it would have been unfair being so closely associated to the organizer. There are also plenty of companies that clearly tell their employees to go ahead and participate in any activities sponsored by the company, BUT are ineligible for any prizes
(with the exception of lucky draws since that is really based on luck).
Even with the lucky draws I've seen many a sponsor that won just put the gift back in the pool and ask them to draw another name to receive the prize, which is the way it should be.
I did ask a contact from Maxis about this but have not heard a peep out of them since, which is a pity. If they do happen to be employees, then this was pretty unfair, but if they aren't and I misheard what they said then so be it. Like I said, this just left a bad taste in my mouth that spoilt something that was otherwise a great experience.
But well done, Paris, Pinkelle and Rinnah! Let's look forward to the next one – I'm sure we'll do better then!
(

PS:

Thanks to Paris for the shots above, since I didn't have time to take any)
** You can also check out the entries by
Paris
and
Pinkelle
on the Klang Valley Food Hunt 2009 and their take on Finder301.