Going Luxurious for Breast Cancer Awareness Month 2009…

Given that Breast Cancer Awareness Month is only one month every year, I'm not entirely convinced about the sincerity of a lot of companies coming up with limited edition promotions just for the month. While a few years back there were barely any companies willing to help the cause, it seems that now everyone wants to jump on the bandwagon. However, I still want to believe that these companies genuinely want to help contribute towards BCA and finding a cure…what's your take?
MY M&M'S® Promise Blend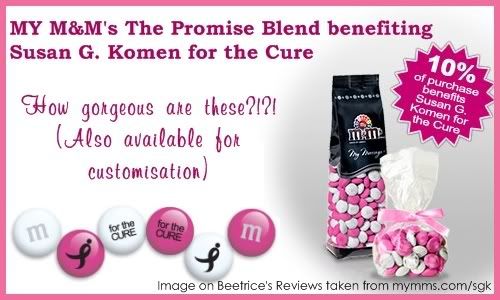 MY M&M'S®
has partnered up with Susan G. Komen for the Cure, and has come up with a special
Promise Blend of Dark Pink and White M&M'S® Milk Chocolate Candies
which come in either a 7oz bag or 1.75oz Gift Favour with pink ribbon. Choices include a pre-printed mix of the 'ribbon' logo and a 'for the CURE' message or your own personal message, and 10% of proceeds will be donated to the cause.
GUESS Women's Sparkling Pink Breast Cancer Awareness Stainless Steel Bracelet Watch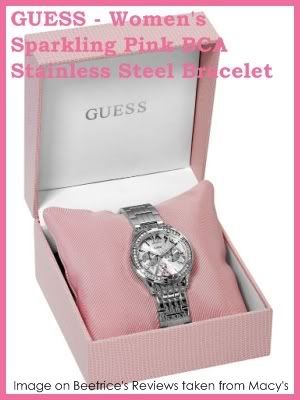 GUESS Watches joins Susan G. Komen for the Cure® for a fourth consecutive year to deliver a fresh and fashionable approach to the fight against breast cancer. GUESS Watches will donate 10% percent of the sale from each
"Sparkling Pink"
watch sold. Retails for USD$105 at Macy's.
Cherry Moon Farms Pink Ribbon Collection

L-R:
Two-Day Pink Ribbon Surprise
,
Deluxe Hand-Dipped Pink Ribbon Berries
,
Pink Ribbon Cookie Bouquet
For those wanting a more palatable pink ribbon collection, check out Cherry Moon Farm's selection of Pink Ribbon offerings. From hand-dipped berries to hand-decorated butter crème cookies, Breast Cancer Awareness one will be a pretty sweet one indeed. 10% of proceeds will be channeled to Susan G. Komen for the Cure®
** On a side note, I'll be traveling down to Singapore for the weekend today, and will be back on Sunday night for a bit of a break and to see some friends. Back on Sunday night! Have a good weekend peeps! :)
Labels: breast cancer awareness