Clinique High Impact Lip Colour SPF15…
Earlier this year during a session with Clinique, I'd gotten a High Impact Lip Colour SPF 15 lipstick in Nearly Violet to use. I'm ashamed to say that it went missing for a while thanks to a lot of stuff being shifted around
(sorry!),
but when I discovered it a couple of months back I was a rather happy puppy
(because I prefer puppies to kittens! LOL!)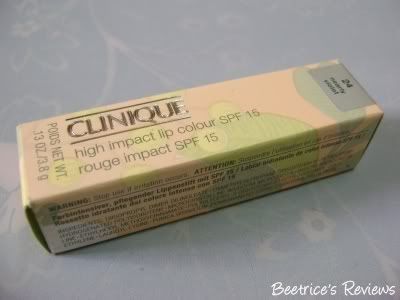 Description:
Clinique High Impact Lip Colour SPF15
is high on colour, long on comfort. Dressed-up colour wears beautifully for 8 hours. And lips enjoy every minute. In highly moisturizing shades that continually smooth, soften, comfort. Protects from UVA/UVB, too.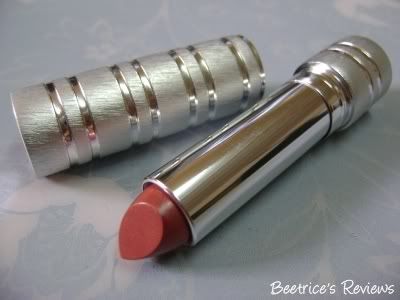 The Verdict:
Clinique's High Impact lipstick
(shortening the name since it's way too long!)
comes in a solid silver tube that's got a nice heft to it – no flimsy packaging here! :D There's a light fragrance to the lippie, but it's hardly noticeable unless you sniff it up close.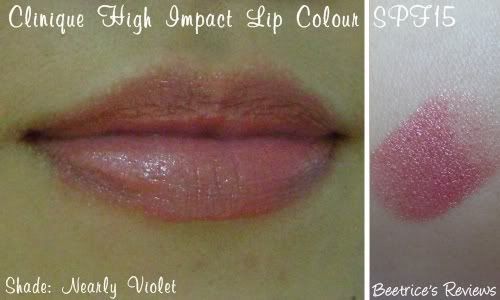 The shade I got was
#24 – Nearly Violet
which turned out to be a soft warm-toned heather shade with a hint of shimmer that applies at the same colour that you see in the tube. I've been wearing it to work for the past few weeks, and it's becoming one of the shades I use more regularly for the times lipgloss isn't too appropriate or convenient.
I found that it provides medium coverage for me with one swipe, full with two coats, but is just a tad bit drying on my lips if used without a lipbalm underneath. However, since I usually apply lipbalm underneath my lipstick anyway it's not much of a bother. I do like the texture of the satiny finish though, since after that I can't help but rub my lips together now and then (
not advised if you want your lipstick to stay put, but hey, I'm funny in that way)
. I liked the fact that it also contains SPF15 – wouldn't want my lips to age faster than the rest of my face now, nosiree!
As for fading, this is not a lipstick that lasts all day, but when it faded it did so quite evenly, leaving a rosy hint of colour on my lips which went just a little bit further when I slapped on another layer of lipbalm
(it was the only thing I had in my bag at the moment since I left the rest in my car on the way to a meeting)
– it looked pretty good, actually...so this will stay in my
"emergency office kit"
for now.
Kahani had a different shade of the High Impact Lip Colour – you can check out what she had to say about
Magenta Rose here
.

Clinique High Impact Lip Colour SPF15
is available in 20 shades and retails at RM66 each.
Rating: 4 / 5
Value: $$
Labels: lipstick