Bobbi Brown Pink Ribbon Collection…

With October being Breast Cancer Awareness Month, I will be periodically featuring special collections as well as informative bits throughout this month to do my part towards breast cancer awareness
(BCA)
. :) I won't go as far as to change my blog theme colour all to pink, but will definitely be putting up a pink ribbon...won't you do the same?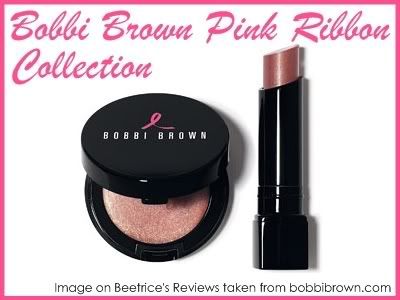 Anyway, I thought I'd start off with
Bobbi Brown's Limited Edition Pink Ribbon Collection
, which is a lip set consisting of Blush Pink Creamy Lip Color
(this is a new shade exclusive to this collection)
and Pink Crystal Glitter Lip Balm.
The Pink Ribbon Collection retails for USD$40 on the international website but as a thank you for your support of BCA, shipping for this collection is free. What's more, a pink ribbon made out of recycled materials will be included with every order for this whole month. Not bad!
By the way, how many of you supported the Walk for World Pink
"World Without Breast Cancer"
at KL Tower on Saturday? :) If you did, do let me know – I'd love to hear how it went! :D
Labels: breast cancer awareness, collections, limited edition