Silky Care Feminine Hygiene Wash…
LOL..yes, you read the title right – this is a review of a feminine hygiene wash. :D No, I will obviously not be posting up pictures of step by step, but I thought it would be something interesting to share with the rest of you ladies.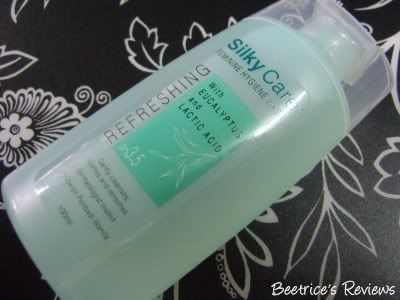 Description:
Silky Care Feminine Hygiene Wash gently cleanses, soothes and provides hygienic protection for the delicate feminine area. Formulated at pH3.5 with lactic acid to maintain the natural pH and flora of the intimate area. Completely soap-free, it gently cleanses without irritation. Enriched with eucalyptus to cool, soothe and refresh.
The Verdict:
Before I go into the bits of this review
(pun most intended…LOL…),
the bottle I picked up was the
Refreshing
variant – there's also a
Gentle
variant that contains chamomile. Please note that this is very different from douching and is only meant for external use.
In general, we ladies have several reasons to use feminine hygiene wash – for one, normal soaps are usually alkaline and aren't suitable for your delicate bits. Secondly, the scents and fragrances in ordinary soaps can irritate your nether regions, causing excessive and possibly nasally offensive discharge
(quite the opposite of the desired effect, no?)
I must admit I hadn't given much thought to using a feminine hygiene wash in my younger years, but after a friend introduced me to it, I'm wondering why I didn't use it earlier. LOL…the Silky Care wash has a very mild but pleasant scent, and with a pH of 3.5, won't irritate your bits when you use it.
Usage is really quite simple – just tip a little bit into your palm at the end of your shower
(after you're done washing off shampoo, soap and whatnot)
, lather it up with some water and wash. It's a no-brainer!
While I can't actually pinpoint exact results ie. fragrance of nether regions is greatly improved
(LOL…that would be quite interesting to explain, wouldn't it?),
I do feel a lot fresher and in a sense, 'drier' when I use it. More notably is that after using it on a daily basis for quite some time, I can actually tell the difference when I haven't used it.

As mentioned, this isn't a topic that I've addressed very often, but still an area that should be as equally important as colour cosmetics and skincare, right? I hope it was useful! :)
Silky Care Feminine Hygiene Wash
retails at RM6.90 for a 100ml bottle and is available at all major personal care stores nationwide.
Rating: 4.5 / 5
Value: $$$
Labels: feminine hygiene