Shu Uemura Nobara Cream Cover Stick Foundation…
** Have you signed up for the
Maybelline Simply Fabulous Giveaway
yet?
At the recent launch of the red:juvenus skincare line
(review on the range coming up soon),
there were another two new products introduced that I didn't talk about previously. One of them is the Nobara Cream Foundation, which is a stick version of their trademark foundation.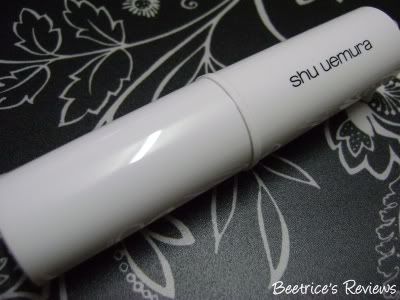 Description:
A new stick version of Shu Uemura's cult favorite,
Nobara Cream Foundation
is formulated to give the instant high coverage of a concealer with the smooth glide of a foundation. Imperfections are evened out for a naturally flawless complexion, while the stick format allows for professionally precise application. The beautiful finish lasts for a long time, leaving a comfortable feeling on skin throughout the day.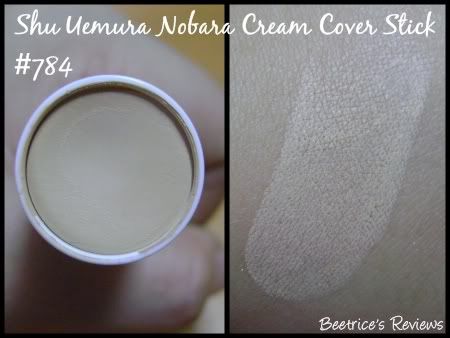 The Verdict:
I was initially given shade #764 which was a bit too pink for me and the Shu Uemura people managed to swap it for
#784
which is a much better match to my skintone. I'm usually a 2-way cake or liquid foundation girl since they're the easiest to apply on the go, but after this I may have to reconsider as it really is a breeze to use.
The stick foundation may be a cream formula, but works quite well with my oily skin and doesn't cake on like some other foundations. According to Shu's makeup artist Fredrick, you
apply it like applying warpaint
– draw stripes across your cheek and forehead with the stick, and then blend in. With a dusting of loose powder on top, this pretty much stays put for the whole day – I tried it out for a 15-hour day and there was minimal shifting if at all. I did need to blot though halfway through so if you have oily skin like I do it might be good to apply an oil-control primer underneath before using this.
I like the fact that it's not too heavy duty to cover up absolutely everything since I usually only use foundation to even out my skin tone and camouflage any minor flaws – looking like I'm wearing a mask is a big no-no for me! Besides, piling on a thick layer of makeup isn't doing it any favours…you're heaps better off with one that lets your real skin shine through, trust me. :)

There are a total of 13 shades available, where Malaysia has 10 out of the 13 shades available locally.

Shu Uemura Nobara Cream Cover Stick Foundation
retails at RM140 for a 11g stick and will be available at all Shu Uemura counters nationwide from October 2009. Comes in 10 shades.
Rating: 4.5 / 5
Value: $$
PS:

And the other product? LOL…hey, I'm not giving out everything at one go! Stay tuned for that one… :)
Labels: coming up, foundation