Revlon Nail Enamel and a twist on a French manicure…
Since my youth, I've loved playing with nail polishes
(or nail enamel as it's known in some circles)
. It was an effective way of keeping me from biting my nails – talk about vanity! :D Recently I was given two bottles of Revlon nail enamel to play with, which was great for perking up my look especially for a couple of weddings I had to attend.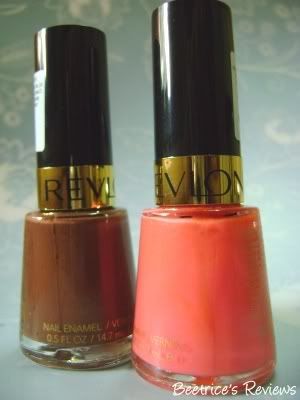 Say hello to Tropical Temptation and Chocolate Truffle!
Description:
Rich, glorious, gorgeous colour. Revlon Nail Enamel completes an outfit, expresses your mood and sets hearts racing. Colour at its most beautiful – with 60 chip-resistant shades to choose from, every aspect of your personality can have its day…or night! DBP, Toluene and Formaldehyde free.
The Verdict:
I never thought I'd be able to carry off flat/solid colours
(I usually gravitate towards pearlescent or shimmery shades since flat or matte colours don't work with my skintone)
but the gloss in these nail enamels compensate for the lack of shimmer and dry pretty quickly so I can do my nails while I'm watching TV and they're dry within a couple of hours.
However, it doesn't work too well on a wet base coat, so what I usually do is apply a clear base coat the night before, then applying the enamel the next day. Another option is applying directly to my nails without a base coat, but since I have relatively weak nails I need the base coat! :p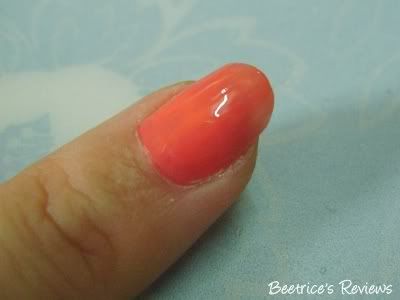 While I was playing with the shades at a recent event with the girls, it suddenly occurred to me that the two shades worked quite nicely together. I'd tried doing my own French manicures before
(with rather messy results albeit),
so why not try one with different colours? With the enamel's thin brush, it was actually quite easy to manage!
The end result? Base colour of Tropical Temptation with a Chocolate Truffle tip. Me likey! This is just what I'm looking to jazz up my dress for an upcoming event. :D
As for lasting power, these enamels are quite long lasting…on average they last about two weeks with very minor wear and tear for lighter shades such as the ones above, and slightly less for darker shades. I'm still hunting for my ultimate burgundy nail enamel, but in the meantime this should satisfy me…teeheehee…
Revlon Nail Enamel
is widely available in a variety of shades and retail at RM19.00.
Rating: 4.5 / 5
Value: $$$
Labels: nail products, tips n news