Photobucket Upgraded…
I'm sure most of you would have heard about Photobucket's sudden slashing of their free accounts from 25GB bandwidth to a measly 10GB a month. While that move was fully within their rights, I'm sure we would have appreciated a warning or options
(other than the

'Upgrade to Pro'

which isn't really a choice, is it?)
rather than a sudden email that our accounts had exceeded bandwidth, which is why some photos haven't been available to readers. Case of a badly managed move, if you ask me.
Anyway, after looking at several options, I decided that continuing with Photobucket was probably my best option since so many of my photos were already hosted on it. And heck, even after deciding on that, I still had problems trying to purchase the upgrade thanks to a glitch in their system with regards to their purchase log.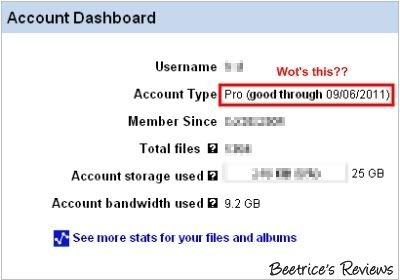 Finally had to ask Tine to help me complete the transaction
(thanks girl!),
so there shouldn't be any other issues with pictures…for the next two years at least!