Pantene Pro-V 3 Minute Miracle Weekly Intensive Treatment…
In my younger days, I used to like Pantene for the smell of its shampoo until Herbal Essences came along and cornered the
'amazing smelling shampoo'
market for me. However, one item that has still remained in my haircare lineup is this baby…their 3 Minute Miracle Weekly Intensive Treatment.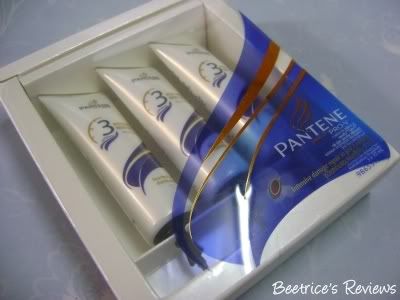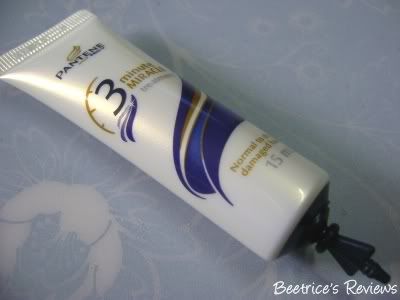 Description:
Imagine the damage we can do to our hair after three months of brushing, blow drying and straightening. With its technologically advanced pro-vitamin formula, Pantene's new 3 Minute Miracle is designed specifically to restore its beauty, by locking in moisture and nourishing your hair. Pantene 3 Minute Miracle Treatment's Amino Pro-Vitamins instantly penetrate the hair strands and the formula hydrates the inside of severely damaged hair. In just 3 minutes, it mimics the smooth outer layer of healthy hair to help repair severe damage and protect your hair from further damage.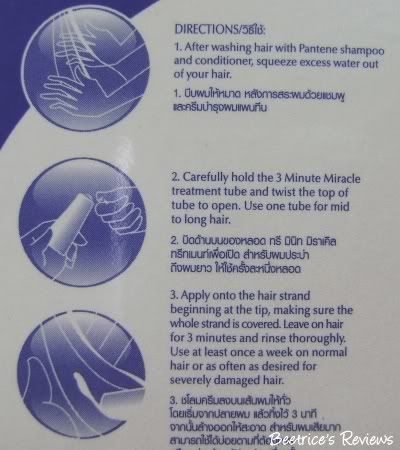 The Verdict:
I first came across the 3 Minute Miracle treatment during a trip to Singapore, and couldn't have been more ecstatic to find it on the local shelves in KL. I'd just come out of a particularly hard-hitting month of performances and such, and the constant blowdrying and tugging of my hair left it looking rather, well, frazzled.
Admittedly, I was rather skeptical of the promised results in 3 minutes, but I figured that if it could help a bit then it would've been worth it rather than having to go to the salon for expensive treatment. I needn't have worried at all – all it took was three minutes of this sitting on my hair
(I used the waiting time to pumice my heels!)
after shampooing and a quick rinse afterwards with cool water.
The result? My hair felt incredibly soft afterwards…what I sometimes like to call
'fluffy hair syndrome'
. The smell was intoxicating as well – a male friend commented that my hair smelt really good that day, and he's not the kind to usually pay any attention to these sort of things!
Each tube is meant to be for one use, but unless you have REALLY long hair, this will easily last you two uses. From experience, hair just above waist length can get two uses per tube, and hair shoulder length can get about 3 uses per tube. Short hair? Heck, one tube will last you a month! :D
The thing that I like most about this is that the instructions are fool- and mess-proof. You can't go wrong using it – no hot towel and plastic wrap needed
(although you can if you want to)
and best of all, delivers results in just three minutes. Sadly, it's not a permanent fix, but at the price, it's a pretty affordable repair since one set of three tubes can last me a month or so.
This has saved me from many a bad hair moment, which has earned it HG status in my haircare range. Even
Tine
has raved about it, so it must be pretty good right? :)
Pro-V 3 Minute Miracle Weekly Intensive Treatment retails at approximately RM12.88 per pack of three tubes and is available at most personal care stores and supermarkets.
Rating: 5 / 5
Value: $$$
Labels: haircare