*ouch*…
What a
(long)
weekend…haven't posted up anything in the past couple of days, mostly due to this…
Happened on Sunday while I was cleaning out some containers. My grip slipped on one, I heard a 'snap' sound…lo and behold, the entire white portion of my nail had ripped almost clean off. Thankfully it hadn't cut into the nail bed, but still stung as I suspect the edge was a bit raw after clipping off the broken bits.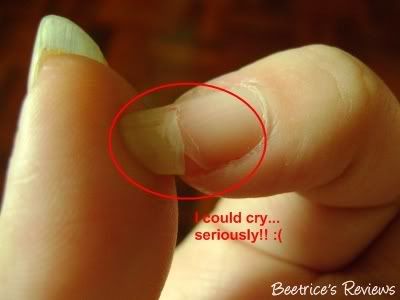 This makes it pretty difficult to type on the keyboard
*ouch*
but as long as I don't put too much pressure on it it's not too bad. Regular posting will be back up tomorrow, and there are some surprises in store for readers coming up! :) Stay tuned!