Origins A Perfect World Intensely Hydrating Body Cream with White Tea…
Thanks to the hot weather and sleeping with the air-cond on at night almost constantly, I've had to resort to using a richer body cream at night before going to bed to avoid scaly skin. One of the products I've tried so far is the
Origins A Perfect World Intensely Hydrating Body Cream with White Tea
, which came as a part of my Origins Peace of Mind set.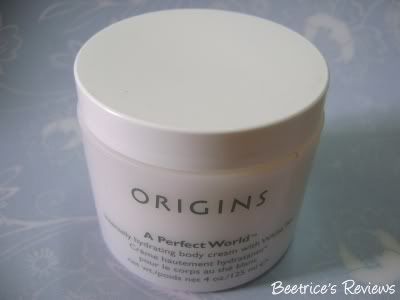 Description:
Slip into something a little more comfortable. It's paradise found as this creamy-rich, aromatic oasis coddles body skin to noticeable smoothness. Highly-hydrating Shea butter deletes scratchy, flaky dryness. Mimosa sleekens slacking skin-texture so it looks and feels tauter, more toned. And to preserve body skin's vibrant, healthful lift and life, utopia's own silver tip white tea banishes youth offenders long before they can cause oxidation, deterioration, dehydration.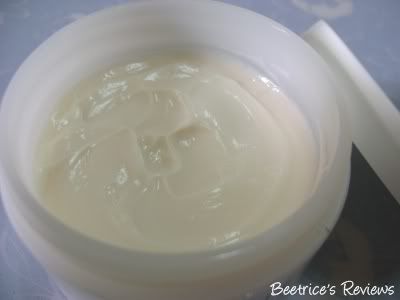 The Verdict:
I usually apply this after my evening shower as well as before I go to bed. The cream says that it's best for dry-to-very-dry body skin, which I can believe since the texture of this cream is really thick
(you can pretty much hold the jar upside down and it'll stay IN the jar!)
and takes a while to be absorbed into my skin. The scent has a hint of white tea in it which isn't surprising given its name.
When I first used this, I'd gone and used it during the daytime where I found myself leaving oily prints on almost every surface I touched for a good half hour afterwards. After that first try, I promptly relegated it to the back of the pile until the renovations started on my house a while back. Coupled with the heat, I was sleeping with the air-conditioning on every night, causing the skin on my legs to become rather scaly.
On an impulse, I tried out the Perfect World body cream one night
(since it was the richest cream I had on hand at the moment)
and have been using it every night since. Applying it just before I go to bed gives it time to sink into my skin and I wake up with smooth hydrated skin rather than scales. And if you were wondering, no, it didn't leave marks on my bedsheets. :)
I'd have liked it to have worked out for my day use since I do like the smell of this body cream, but since I can't, smelling it as I drift off to sleep isn't a bad alternative. Just a note though that you do need to take the time to really work it into your skin so applying this in a hurry is a big no-no.
What's the best body cream you've tried for dry skin? :D I'd love to try another alternative once I'm done with this tub
(I'm already about halfway through).
Origins A Perfect World Intensely Hydrating Body Cream with White Tea
comes in a 200ml tub and is available at all Origins outlets.
Rating: 3 / 5
Value: $$
Labels: bodycare, moisturiser