The long weekend is over…and a FOTD…
Seems like the weekends are just flying by, isn't it? I feel as if I've blinked and suddenly the year is almost over! I'd originally planned to take the long Raya weekend to relax, but in the end those plans went flying out the window thanks to a whole slew of activities…but more on that later. Today, I thought I'd ease back into typing with a look I did for an ex-colleague's wedding.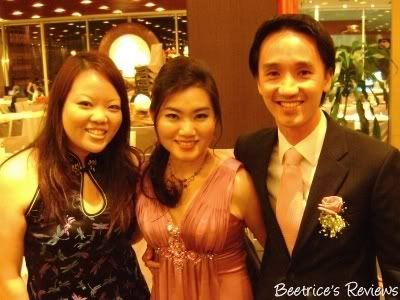 - requisite picture with the bride and groom…congratulations!! -
As you can
(sort of)
make out in the picture, I chose to wear a cheongsam for the dinner (
if you want more pics, you can check out the post on my personal site here)
Anyway, it was black with blue and purple dragonflies
(yes Kahani, dragonflies! And it's mine!!)
so I thought something bluish would work nicely.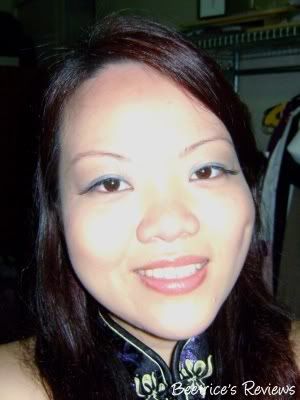 Taken after the wedding…sorry about the bad flash as was working in lowlight conditions.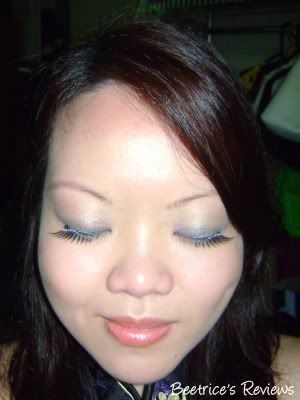 And yes! Those are false eyelashes
(my own? I wish!)…
I think I've finally mastered the art of applying false eyelashes…at least the half-to-three-quarter-lash ones anyway…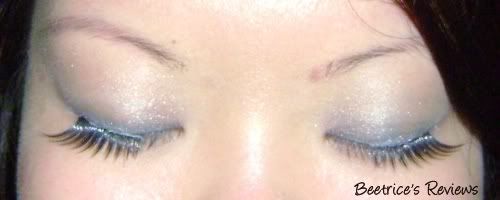 The base colour I used for this look was actually brown and charcoal, but the final touch completely changed the shade completely – these are the products I used:
Australis Pencil Eyeliner in Charcoa
l – on my upper lids
Kanebo Media eyeshadow duo
– shimmery beige and brown shade across the lids
Stage Angel Lash Sculpting Mascara
– used with an eyelash curler
inuovi ProLash #05
Stage Mono Eyeshadow in Waterfall
– one sweep close to the lashline
Revlon Matte Blush in Perfectly Peach
Revlon Superlustrous Lipgloss in Glossy Rose
The Stage Mono Eyeshadow in Waterfall completely changed the overall colour combo of the brown I'd originally applied to something more bluish to go with my dress. If you look closely you can actually see hints of the brown underneath, which worked in my favour. :)
So, what did you girls get up to over the weekend? Share share!! :D