Kiehl's Bath and Shower Liquid Body Cleanser – Pear Tree Corner…
After trying out
Kiehl's Gently Exfoliating Body Scrub in 'Grapefruit'
which worked well but left me disappointed on the scent front, some readers suggested trying the Pear Tree Corner variant of the scrub. Since I already had an almost full tube of the grapefruit one, I passed on the Pear Tree Corner scrub, but remembered reading about the
Pear Tree Corner shower gel on My Women Stuff
and ended up picking the Pear Tree Corner Bath and Shower Liquid Body Cleanser
(I have to stop reading Paris' site…

REALLY

…she's disastrous for my pocketbook!!)
since the first whiff had me swooning in the shop.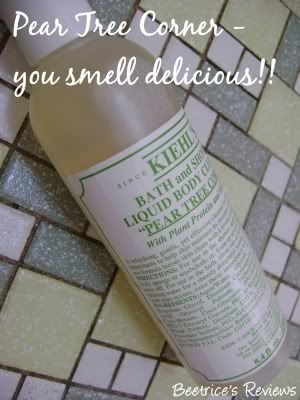 Description:
Kiehl's Bath and Shower Liquid Body Cleanser "Pear Tree Corner" with plant protein and sodium PCA is a refreshing, gentle, yet effective cleanser for the body. Formulated with humectants to help skin maintain its moisture. Used in the shower or bath, our formula leaves skin clean with a lovely texture.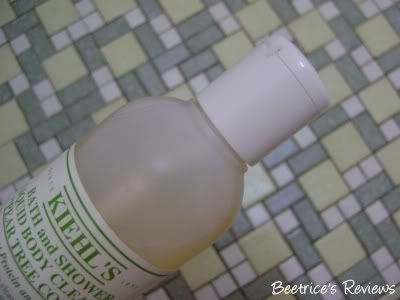 The Verdict:
I guess the statement in the first picture said it all – I love love
LOVE
the smell! It reminds me of those juicy pears I used to love sinking my teeth into when I was younger. I used to pass over the crunchy yellow pears from China and zoom in on the green…err…pear-shaped ones, especially those that yielded slightly under gentle pressure. More often than not, they were just nice after being left to ripen for a few days, which had me many a time happily nibbling one in front of the TV after dinner…gosh, I'm already dreaming of those pears just writing this!
I noticed that the bottle that Paris tried and the one that I got had different labels – I believe that hers was from a previous batch when Pear Tree Corner was first introduced as a '
Limited Edition'
collection, and proved popular enough to be incorporated into their regular range
(for the time being at least, since my bottle doesn't mention Limited Edition anywhere…yay!!)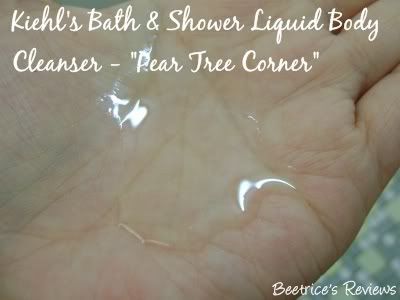 This has been giving me absolutely dreamy showers in the morning – okay, maybe not the desired effect when you're trying to drag your eyelids open, but it smells so good I simply don't want to get out of the shower. Damn, this is more addictive than crack!! Texture-wise the solution is rather liquidy and it doesn't lather up much, but the amount in my palm above suffices when used with a pouf.
A 250ml bottle retails at RM60 which is a bit on the high end for a body cleanser, but what price would you put on something that conjures up thoughts that are nothing but pleasant? For me, I'd probably be a bit more restrained with the amount I use, but I'd still get it nonetheless. :)
Ingredients:
Aqua/Water, Glycerin, Sodium Laureth Sulfate, Propylene Glycol, Disodium Cocoamphodiacetate, PEG-200 Hydrogenated Glyceryl Palmate, Parfum/Fragrance, Glyceryl Oleate, Coco-Betaine, Coco-Glucoside, PPG-26-Buteth-26, Sodium Benzoate, PEG-7 Glyceryl Cocoate, PEG-40 Hydrogenated Castor Oil, Hydrolyzed Wheat Protein, Disodium EDTA, Methylparaben, Benzyl Benzoate, Potassium Sorbate, PEG-30 Glyceryl Cocoate, Citric Acid, Sodium PCA, Aloe Barbadensis/Aloe Barbadensis Leaf Juice, Sodium Hydroxide Fmla
Now the million dollar question is – Kiehl's, can you pretty please
(with lots of sugar on it)
come up with a Pear Tree Corner fragrance? I'll buy up the lot if it smells like the cleanser!! :D
Kiehl's Bath and Shower Liquid Body Cleanser is available at all Kiehl's outlets nationwide, and retails at RM60 for a 250ml bottle.
Rating: 5 / 5
Value: $$
Labels: bodycare, cleanser, limited edition