Elianto Makeup Cleansing Tissue with Tea Tree Extract...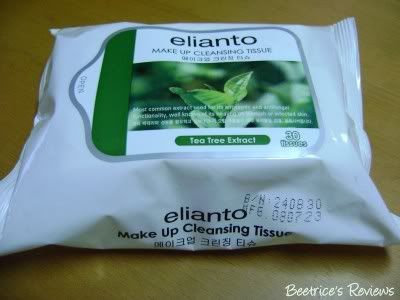 I'm a big advocate for anything that serves to make my life easier...add the words 'travel friendly' into the mix and I'm definitely going to want to try it out. When I came across Elianto's makeup cleansing tissues during a sale, I decided to pick up a pack to try, just for the heck of it.
Description:
Elianto Makeup Cleansing Tissue with Tea Tree Extract contains the extract most commonly known for its antiseptic and antifungal properties, well known for its healing of blemishes or infected skin.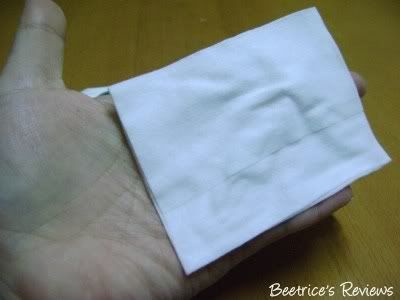 The Verdict:
The cleansing tissues come in a resealable foil pouch to lock in the moisture of the tissues. This is pretty standard fare with most moist towelettes I've come in contact with. One thing that I noticed when I took out a tissue was the faint but unmistakable scent of green tea fragrance. This is undoubtedly an added fragrance to the mix, which didn't bother me much but definitely a point to note for those sensitive to fragrance additives.
The tissues themselves are a decent size, and there's a fair amount of moisture on the tissue, but not so much that it drips – a definite plus point since the whole point of having the cleansing tissues is to make life easier...how could life be easier if you have to worry about dripping cleanser all over your dressing table while cleaning your face? Definitely not! :D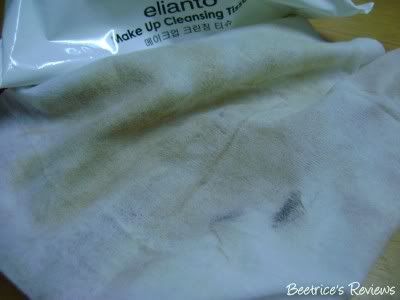 As far as it performs, my daily foundation and colour cosmetics are no match for it. But the real test came when I wanted to use it to remove waterproof mascara...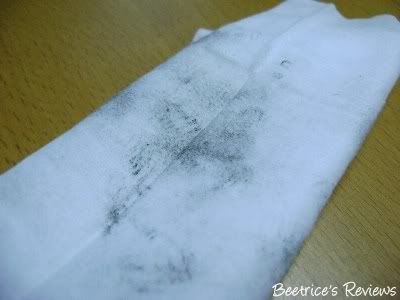 It turns out that there's a knack to using the tissue if you want to remove waterproof makeup. Merely swiping at my lashes didn't remove much, but I found that if I gently press it on my eyelid for a few seconds for the moisture to soak into my lashes and then gently wipe it off, I can clean off almost all the mascara in one go. Not half bad for a budget makeup remover!
Personally, I don't like the feeling of cleansing without water, so usually after wiping off my makeup with the tissue I rinse it off in running water and go over my face one more time. This removes any remnants of makeup still on my face, along with any residue from the cleansing solution. It's worked pretty well for me so far, considering that I've been taking them with me when I go outstation – saves me the trouble of having liquid restrictions for hand luggage on flights, and also sets my mind at ease for any potential leakages/breakage in my luggage
(ever tried to clean out oil-based makeup remover when it's spilt all over the contents of your bag? Not a pretty sight!)
Would I get this again? Definitely...it's cheap, effective and let's face it, at less than RM15 for a pack of 30 tissues, this is value enough to make it my travel buddy for some time to come! :D
Elianto Makeup Cleansing Tissue with Green Tea Extract comes in a pack of 30 tissues, and can be found at Elianto outlets nationwide.
Rating: 4.5 / 5
Value: $$$
Labels: cleanser, economical