Dove Fresh Moisture Facial Foam…
When I finished my
Nivea Visage Oxygen Power Reviving Cleansing Gel
recently, I was sifting through my products when I came across a tube of Dove Fresh Moisture Facial Foam. I'd had my reservations about Dove's haircare range which to me smelt more like a body wash than shampoo and tended to make my hair go flat, but decided to try out the facial foam
(all for the sake of roadtesting! LOL…)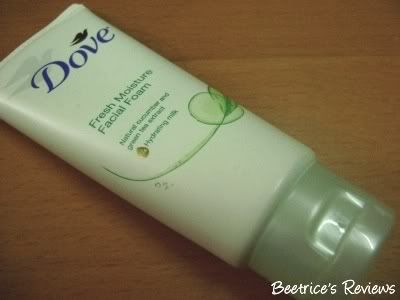 Description:
Dove Fresh Moisture Facial Foam gently and effectively purifies and refreshes your skin to reveal perfectly clean and hydrated skin. It contains natural cucumber and green tea extract to help cleanse and purify pores. Nourished with Dove's ¼ hydrating milk, your skin will feel softer and smoother.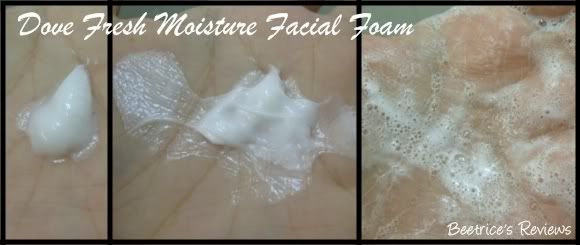 The Verdict:
First things first…Dove's Fresh Moisture Facial Foam thankfully doesn't smell too much like a body wash! I literally heaved a sigh of relief when I caught a whiff of the light green tea scent, but note that the
'cream wash'
smell typically associated with Dove is still present albeit muted.
The texture itself is similar to other foaming cleansers I've tried – Ginvera and Lancome would be the most similar in comparison. However, upon soaping up the facial foam generated a rather generous amount of foam – considerably more than my Lancome facial foam for sure. Many would assume that more foam equals better cleaning power, but really, the bubbles aren't an accurate indication.
As far as its performance goes, Dove's Fresh Moisture Facial Foam is meant for oily or combination skin which was supposed to be perfect for me with my combination skin and extremely oily T-zone. The facial foam managed to clear off most of my makeup, my skin felt seriously tight afterwards - I had problems pulling any facial expression until I applied moisturiser, which is not good! A decent cleanser should leave your skin clean, not stripped of its natural moisture…where was Dove's famed hydrating milk??
To give it a chance, I tried it one night on a full face of makeup
(the previous time I had only applied a base and loose powder, whereas this time it would have to contend with base, primer, foundation, loose powder and colour cosmetics).
This time, my skin was left within normal margins afterwards without feeling tight.
At this rate, I'll probably have to keep this for when I need to remove heavy makeup
(which is rare)
and get another cleanser for daily use since I don't really use that much makeup to work. I wonder though, if my already extremely oily skin can get dried out by this, what would happen to those with combination skin?
*shudder*

Dove Fresh Moisture Facial Foam comes in a 100g tube and is available at most personal care stores.
Rating: 2 / 5
Value: $$
Labels: cleanser