Do You BYOB?
BYOB or Bring Your Own Beer was a common thing back in my university days, but today it's for something a little different…in this case, my BYOB refers to
"Bring Your Own Bag"
. While I was living in Perth, I used to have shopping bags that I stuffed into my sling bag when I went grocery shopping. Not only did those bags save a lot of trees, but they were a lot easier to carry as opposed to the usual plastic bags that cut into my hands when they got really heavy…especially when there was a long walk back!
At the time, this hadn't really taken off but in recent months companies like Ikea have started encouraging people to bring their own bags by charging for their plastic bags. Of course, the prices aren't unreasonable at just 10sen per bag, but it all adds up!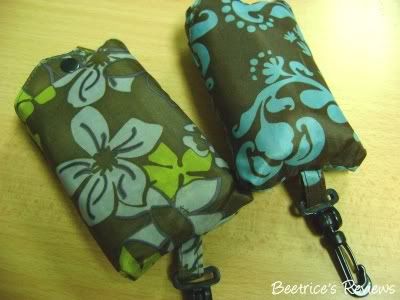 Undoubtedly I'm no longer in the same boat as I was in university with dedicated trips out for grocery shopping, but rather I usually stop by the local supermarket as and when I can or really need something. The eco-friendly shopping bags I used to carry in Perth weren't exactly easy to slip into my
(already packed!)
handbag and more inadvertently got left in my car boot.
Thankfully, there are bags such as the RuMes
(I have one from Tiny Tapir)
that fold up real tiny but can still handle a hefty load. At the price
(I think it was about RM38),
it's pretty good value for money since it's built to last. However, I just came across a little gem at my local Popular bookstore above which falls into a sort of
"dupe"
category.
The little shopping bags above come in a variety of patterns and colours and…are you ready for this?...retail at a
VERY pocket-friendly RM7.85!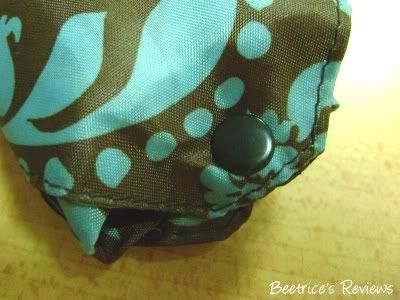 One obvious difference is that the bag folds up and is stored in a separate snap-shut pouch with a clasp to hook onto your bag if you want to. Otherwise, there's not too much difference between the two for a spot of grocery shopping. I haven't tried stuffing a 10kg bag of rice into it yet, but it's probably a matter of time…LOL…
What about you – Do you Bring Your Own Bag? And if you do, which kind do you use? :D