Clarins Nude Inspiration Autumn/Winter Collection 2009…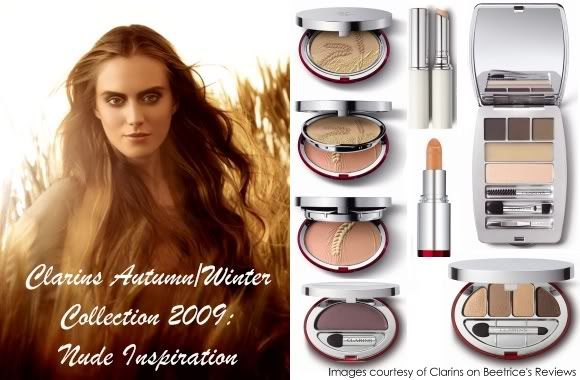 Last week I'm sure a lot of you would have heard about Clarins' launch of their A
utumn/ Winter Collection
, aptly named
Nude Inspiration
for the nature-inspired hues seen throughout the collection. Instead of going for the actual launch itself
(which was during working hours anyway),
Clarins had a separate session the next day for a few bloggers to test out the collection for ourselves – less people, more 'playtime' with the products and free reign to accost the obliging beauty advisor with questions…what's not to like? :) I reckon we had a nicer time there than if we had gone for the actual launch itself! Heehee...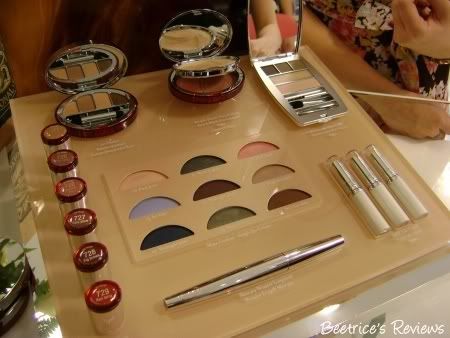 The collection includes a Face & Blush Duo Compact
(Limited Edition),
Eyebrow Kit "Pro" Palette, Colour Quartet for Eyes: Nude, Concealer Stick as well as new shades of their Single Eye Colours and Joli Rouge.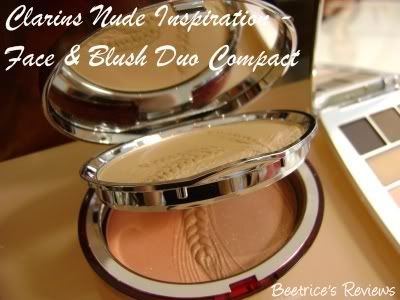 This limited edition compact is absolutely gorgeous – I fell in love with the gold dusted wheat pattern on the surface of the face compact as well as the blush duo
(the gold dust is only for decoration though, and will eventually wear off).
A note though that the colours of the blush are slightly skewed towards warmer tones so you may want to test it out to see if it suits your skintone. If I was to pick one 'lemming' item from the collection, this would be it!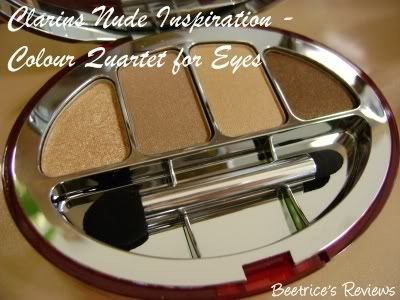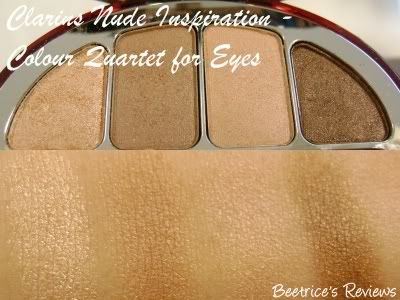 The Colour Quartet for Eyes: Nudes is another lovely compact. With iridescent brown, peach/pink and beige shades and just the right amount of shimmer, this is great for everyday use housed in their trademark silver compact. Their makeup artist tried it out on Xin, and the resulting look was very pretty indeed – so much so she ended up getting one for herself! :D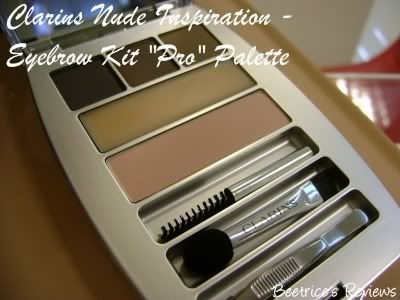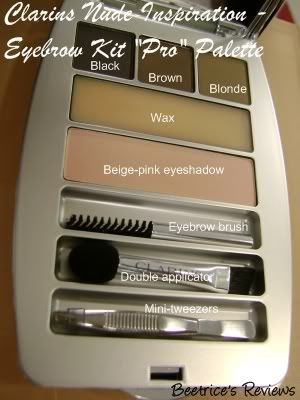 I was told that the Eyebrow Kit "Pro" Palette is a new addition to their permanent lineup. At first glance, Sue and myself had the same thought of this palette bearing some similarities to Beautilicious' 'Arch It Right' Kit, but it comes with a beige-pink eyeshadow to highlight the browbone once you're done shaping and filling in your brows. The trick here is to fill in your brows with the appropriate colour before using the wax to 'set' your brows in place
(you can see what I mean later on in this post)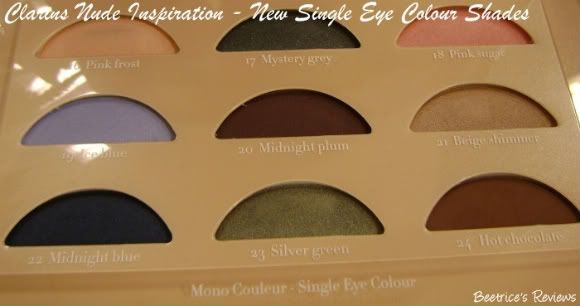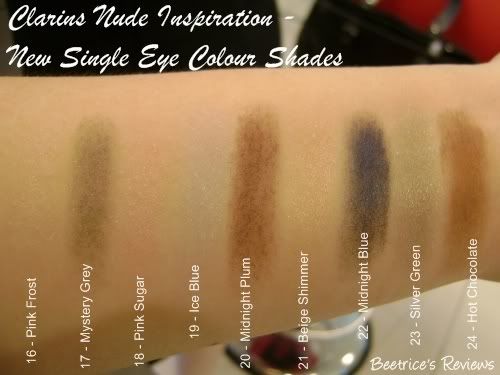 There are also 9 new additions to their Single Eye Colours that cover a myriad of colour families. Shade-wise, the colours are slightly more pigmented than what you see in the picture above. It's suggested that the eyeshadow be pat on rather than swiped on so that the colour will adhere better, which sounds like good advice.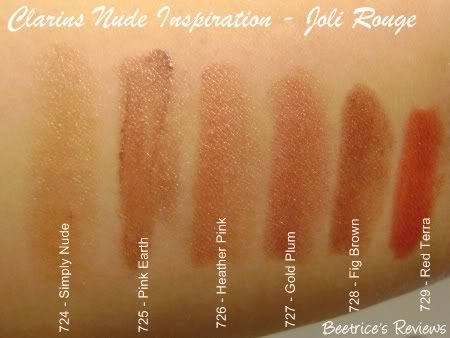 Oh, and did I mention their new Joli Rouge shades are gorgeous? There are 6 new shades, all of which are very wearable for most skintones right down to the bright red – given Paris' penchant for red lippie, it's no wonder her eyes lit up when she saw it…for me, I went giddy for Gold Plum which is a light plum shade with golden pearl shimmer…ooolala…
Now to the part I was talking about earlier – my brows! Hehe…usually, I'm pretty slack when it comes to dealing with my eyebrows on a daily basis. At most, I just swipe them with a bit of brow mascara to keep them in place, and only take the time to draw/ shape them when I go out for events.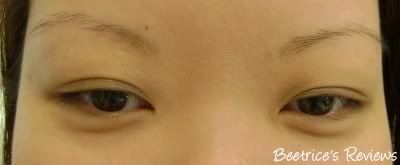 Before –
yes, these are my somewhat sparse brows au naturel...and please ignore the 'lack of sleep' eyebags
(it's been a long week!)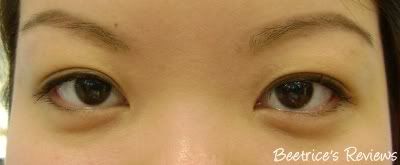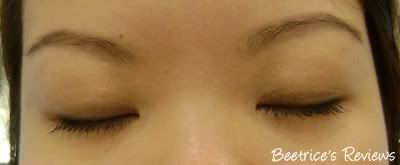 After –
beauty events manager Michelle used the brown shade in the Eyebrow Palette to fill in my brows, added some colour from the Colour Quartet and finished off with their mascara
(which gives a fabulous curl when paired with their lash primer by the way).
Something that could possibly be carried off for a day or night look – all I'd need to do for the evening look is up the ante with some black eyeliner and add a touch of deep red lippie!
At the end of the session, we were pleasantly touched by the generosity of the Clarins representatives…despite our ogling over the collection, I must admit I was rather shocked when I opened the pouch in my paper bag.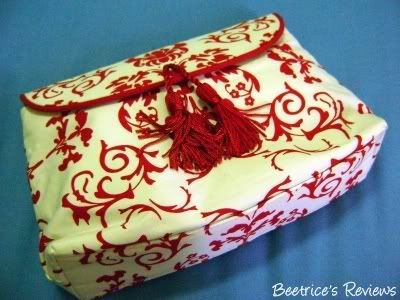 The bag itself is adorable – I love the motif, and there's even a small mirror on the inside of the closing flap. Some beauty companies come out with lovely bags and premiums, and this is one of the nicer ones I've seen so far…decent enough for an evening clutch, no?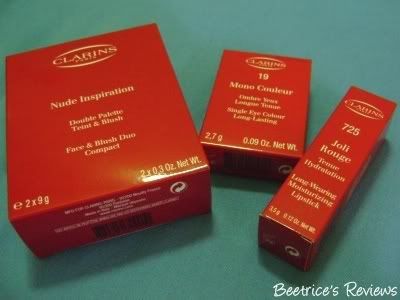 But the best was yet to come – inside the pouch was the Face & Blush Duo Compact that I was eyeing, along with a Single Eye Colour and Joli Rouge from the collection's new shades…can't wait to get my hands dirty with them!
*bliss*
Pricing for the Clarins Nude Inspiration Collection are as follows:
Face & Blush Duo Compact – RM160
Colour Quartet for Eyes: Nudes – RM145
Eyebrow Kit "Pro" Palette – RM135
Concealer – RM88
Single Eye Colour – RM60
Joli Rouge – RM79
The Clarins Nude Inspiration Collection will be available from 1st September onwards at all Clarins counters nationwide including Institut Clarins and Clarins boutiques.
Have any of you checked out the collection, and if you did, what is/are your favourite(s)? :)
Labels: blusher, collections, compacts, eotd, events, limited edition, palettes