Chanel Precision Ultra Correction Lift Range and Skincare…
Chanel has always been a name that has conjured images of its bags
(hello 2.55!!)
and accessories. Honestly, I'd never paid much attention to their skincare range after a bad experience with their previous Ultra Correction Lift left me with milia under my eyes! To be fair, it was more of the beauty assistant's fault for pushing me to try an item that wasn't suitable for my skin type despite my repeated protests that I had oily/combination skin.
However, their new range of Ultra Correction Lift piqued my interest to see what kind of changes they had made, prompting me to drop by the counter in Subang Parade for a look. What transpired may just have changed my perception of Chanel skincare
(and their counter staff!)
This time around, the beauty assistant was a LOT better – knowledgeable about the products, and took the time to listen to my skin woes before making her recommendation
(as opposed to just bulldozing through with 'THE product').
She immediately vetoed the Ultra Correction Lift range for me, saying that even though the new formula was lighter, it still wasn't right for me as it's more suited to mature skin types. What a difference from the previous one that kept insisting that the Ultra Correction Ultra Firming Night Cream was fine for my skin
(and I was even younger back then, mind you!)
The only product that she would recommend from the Ultra Correction Lift range was the
Sculpting Firming Concentrate
which comes in a gel form and is supposed to improve facial contours. After looking at my skin, believe it or not, she didn't go into a
"see all the problems you need to fix"
spiel
(which I had been bracing myself for),
but merely said that my skin was just fine for my age, and to maintain it accordingly. :)
She did recommend two other products for me to try though, which is the
HYDRAMAX+ACTIVE Active Moisture Gel Cream
and
Beaute Initiale Eye Energizing Multi-Protection Eye Gel
since I was griping about my under-eye puffy circles. I left with three samples, and feeling rather good about the whole experience.
I like the way they package their samples. Since the jars are super small, they actually attach a card that gives all the requisite information you'd need on the product right down to the ingredients – good for those that may have allergies or sensitivities to certain products. Read on to hear my thoughts on the three products I tried.
Ultra Correction Lift Sculpting Firming Concentrate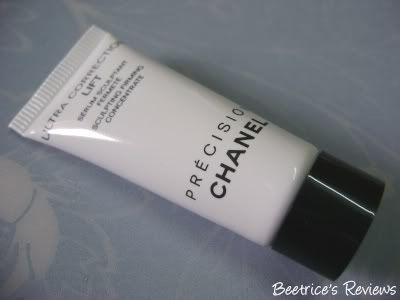 Description:
Chanel Ultra Correction Lift Sculpting Firming Concentrate is a lightweight silky gel, luxuriously textured and delicately scented to provide an immediate lifting effect. High-performing star ingredient elemi PFA* stimulates the production of tensin, improving the quality of skin's collagen and elastin fibers, and helping to improve their bonds within the skin to create a firm supportive network. Ophthalmologist, dermatologist and comedogenicity tested.
*PFA: Polyfractioned Active. An ultra-pure, ultra-powerful ingredient created through an exclusive purification technique developed by CHANEL.
The Verdict:
I applied this after cleansing before applying my moisturiser. The beauty assistant recommended that I apply it in the morning rather than at night
(since it would have to work doubly hard against gravity, which is a valid point – how many of us sleep standing up?).
I like the way the gel leaves my skin feeling velvety smooth and has a mild but pleasant scent.
I wasn't really expecting much of a result since this was only a sample that lasted me about a week, but I did notice that my jawline and cheekbones were slightly more defined in photos taken during a friend's hens night recently – not bad for one week's application. :D
Chanel Ultra Correction Lift Sculpting Firming Concentrate
comes in a 30ml bottle and retails at RM412.
HYDRAMAX+ACTIVE Active Moisture Gel Cream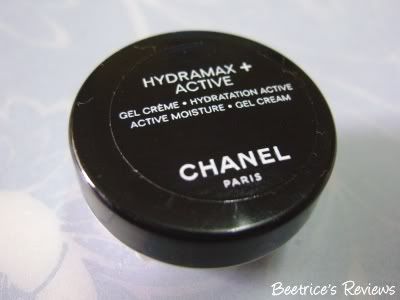 Description:
HYDRAMAX+ACTIVE Active Moisture Gel Cream is high-performance moisturizing care captured in a light and silky smooth, delicately perfumed "sorbet" gel-cream. Ideal for skin that seeks freshness and softness every day. Skin is left softer, more supple and more radiant, while hyaluronic acid spheres make fine dehydration lines disappear. Apply morning and/or evening to face and neck.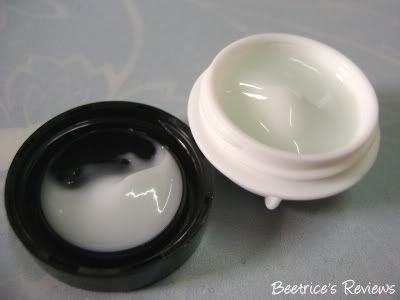 The Verdict:
The thing that floored me about the HYDRAMAX+ACTIVE Gel Cream is its scent – this seriously smells fantastic. It's described as
'a subtle scent of fruity notes of white peaches, heightened by citrus fruits, over a delicate bouquet of jasmine, peony and cyclamen flowers'
(what a mouthful!)
I couldn't care less about the description, actually…let's just say if they turned this into a fragrance, I'd want to get it!
As for the moisturizing factor, this gel cream was meant for normal skin, but I was told it would work on my oily/combination skin as well. I tried this out for day as well as night to see how well it would hold up – during the day, I did find my skin was kept moisturized and supple and a friend mentioned that my skin looked more 'glowy'
(don't be getting any other ideas, stick to the moisturiser!)
. However, I wouldn't recommend this for night use since it wasn't moisturizing enough to withstand my air-conditioned room
(I found this a bit funny considering I work in an air-conditioned office, but maybe it's just the environment)
and left my face feeling rather 'stretched' when I woke up.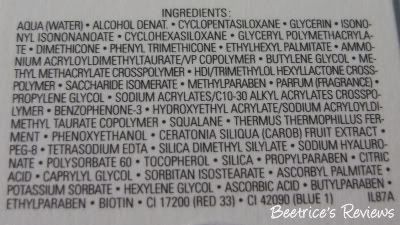 Chanel HYDRAMAX+ACTIVE Active Moisture Gel Cream
comes in a 50ml jar and retails at RM230.
Beaute Initiale Eye Energizing Multi-Protection Eye Gel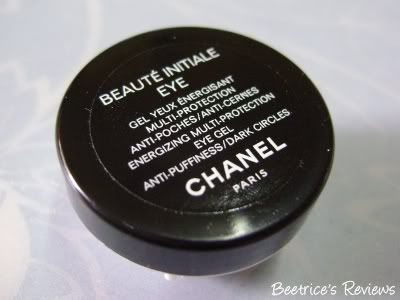 Description:
Chanel Beaute Initiale Eye Energizing Multi-Protection Eye Gel helps to correct signs of fatigue in the eye zone, reducing appearance of dark circles, puffiness and fine lines. The gel emulsion contains derivatives of vitamins and vital trace elements like magnesium and copper that energizes skin to renew and rebuild itself, while Blue Ginger PFA adds radiance, leaving your eyes glowing with vitality and well-being.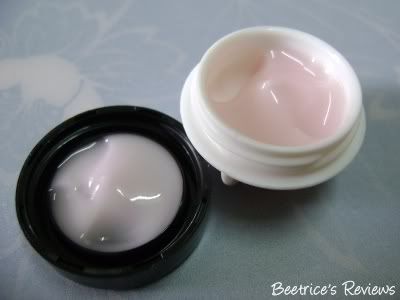 The Verdict:
This light pink eye gel is meant to prevent the first signs of aging around the eyes, as well as combat puffiness and dark circles. I was getting rather desperate, since a slew of late nights and fitful sleep had left me with panda eyes. Texture-wise, the eye gel comes across as more of a gel-emulsion rather than a gel per se, but absorbs rapidly into the skin around my eyes. As with all eye creams, I dabbed this into the skin under my eyes rather than spread it in which stretches the skin and sets you up for sagging under-eye skin later on. There was barely any discernible improvement after the 3ml sample was used up, but to be fair a week or so is really hardly sufficient to see much of a result. To be honest, I'd rather remedy the dark circles with a good night's sleep, although that's pretty hard to come by!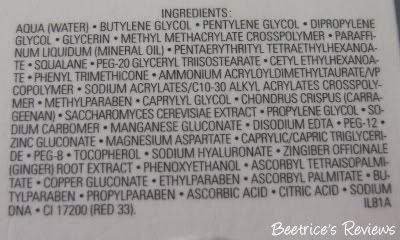 Chanel Beaute Initiale Eye Energizing Multi-Protection Eye Gel
comes in a 15ml bottle and retails at RM194.
After trying the three products above, I'm starting to like Chanel's skincare range…a lot! Who knows, I may just decide to splurge on a bottle
(or

*cough*two*cough*

)
during the next round of sales…help!!
Labels: skincare