Biotherm Aquasource Oil-Free Clarifying Hydrating Gel…
Back in May, Biotherm launched its newest Aquatrio which was designed for shine-prone skin or for normal to combination skin in warm, humid climates. Each of the Aquatrio rituals were designed with a specific mineral element, designed for each skin type and especially chosen for its purifying, balancing or fortifying properties – in the case of oily skin, the mineral element here was Copper
(Copper is a sebo-regulator, and inhibits an enzyme that contributes to sebum production in the sebaceous glands.)
As always, all of the Aquatrio formulas also contain Biotherm's flagship ingredient, Pure Thermal Plankton, recognized for its soothing and regenerating skin benefits. There are also another two Biotherm Aquatrio ranges which cater for normal to combination skin
(Zinc)
and dry skin
(Magnesium).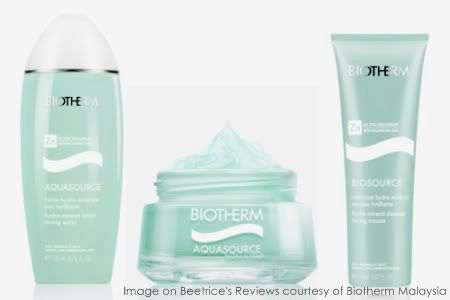 Normal to combination skin –
Zinc acts on key enzymes in the cellular division process and is known for facilitating skin regeneration. A sebo-regulator, zinc is also known for its anti-free radical protective action as well.
Dry skin –
Magnesium plays a role in basic metabolism, in the synthesis of amino acids in cells. As an element of growth, it also affects the way in which the cells metabolize energy. On the epidermal level, magnesium helps facilitate restoration of the skin's barrier function.
I was given a bottle of the Aquasource Oil-Free Clarifying Hydrating Gel. Having oily skin, I was curious to see how well this would work on controlling oil. Another curious question – if it contains minerals like Zinc, Magnesium and Copper…would it have a metallic smell? Read on to find out! :)
Description:
Enriched with mineral copper, known for its powerful natural dermo-purifying properties, Aquasource Oil Free clarifies skin. This fresh, transparent, non-greasy, non-sticky gel-cream melts onto the skin as soon as it is applied for a feeling of instant freshness and hydrates it for 24 hours non-stop. Ideally moisturized, skin is soft and long-lastingly matte and takes on a fresh and healthy appearance. The ultra-hydrating texture contains the equivalent of 5,000 liters of thermal spring water* that is oil-free and non-comedogenic.
*Equivalent to the concentration of pure thermal plankton.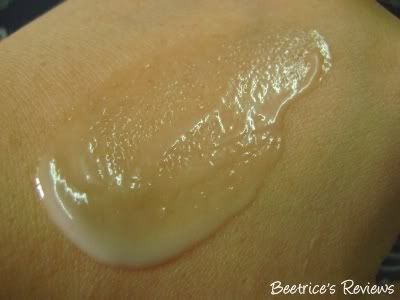 The Verdict:
Biotherm Aquasource Oil-Free Clarifying Hydrating Gel (Aquasource Gel) comes in a sleek pump-flacon. Oh, and for those who were piqued about my earlier question on smell – no, the Aquasource gel doesn't smell remotely metallic. In fact, it has a lovely fresh smell.
Paris
likens it to citrus, but I can't quite put my finger on it.
The gel is very easily absorbed into skin and leaves a slight cooling effect on my skin after application. I like the way my skin feels after application, and my makeup goes on smoothly afterwards too!
After absorption – matte skin primed for makeup
For my oily skin, this is quite a find. I can see myself using this for some time to come, particularly if it's going to be a long day. The hydration factor is just nice for my skin, although I would still turn to my
Garnier Aqua Defense Non Stop Intensive Moisturising Essence
for an added boost once in a while and at night.
However, do note that the Aquasource gel contains alcohol
(see ingredient list below)
so this may not be suitable if you have sensitive skin.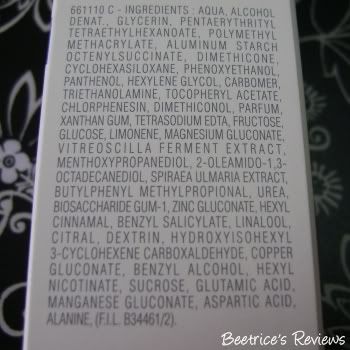 Biotherm Aquasource Oil-Free Clarifying Hydrating Gel retails at RM140 for a 50ml bottle and is available from all Biotherm counters.
Rating: 4 / 5
Value: $$
Labels: moisturiser, skincare